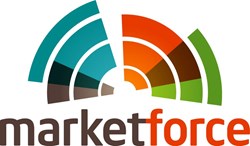 Brands want to be able to quickly see how they are performing without having to wade through tedious numbers of social media posts by hand.
Boulder, CO (PRWEB) February 10, 2014
Market Force Information, a worldwide leader in customer intelligence solutions, is helping retailers, restaurants and other multi-location businesses provide greater customer service through a new solution for social media monitoring, analytics and management. Released today, SocialForceSM enables businesses to monitor consumer online chat about their brand and competition, and take action to improve their performance and provide a differentiated customer experience.
"There's a growing number of social media forums that provide consumers with a podium to vocalize their opinions about a company, and it's a tall task for large businesses to wade through what customers are saying about their brand, their competitors and their experiences," said Janet Eden-Harris, chief marketing officer for Market Force. "SocialForce extracts this intelligence for businesses, uncovering ways for them to make operational improvements that lead to exceptional customer service."
SocialForce provides these insights by tapping into content across dozens of social media networks, such as Twitter, Facebook, YouTube, Instagram, Tumblr, Google +, WordPress, Flickr, Wikipedia, blogs and message boards. It can be used to monitor social conversation volume, analyze sentiment and identify trends – all underpinned by powerful analytics and presented through a visual dashboard.
Market Force has developed a unique sentiment-scoring algorithm that enables brands to quickly track how they are doing over time and against their competitors, using a weighted scoring mechanism. "Brands want to be able to quickly see how they are performing without having to wade through tedious numbers of posts by hand," said Marcus Daley, Market Force chief technology officer. "Our new approach gives them that tool."
"We're doing the heavy lifting for businesses by finding important posts on which they can take action, whether it's quickly reaching out to customers that express dissatisfaction with an experience or acknowledging a specific job well done," said Eden-Harris. "SocialForce also helps them keep tabs on the competitive landscape so they're not taken off guard."
SocialForce is now available through Market Force as a standalone data source or incorporated into KnowledgeForce, a customer intelligence platform that integrates various streams of customer service measurement data to give companies a holistic view of their operations.
For more information, visit http://www.marketforce.com/social-media-monitoring.
About Market Force Information
Market Force is the leading global customer intelligence solutions company for multi-location businesses, including major retailers, restaurants, grocery and convenience stores, financial institutions, entertainment studios and consumer packaged goods companies. With more than 125 years of combined industry experience, Market Force has pioneered the industry with a suite of customer intelligence solutions – from proprietary decision-support tools to 600,000 field associates across North America and Europe who conduct mystery shopping, to real customer surveys, contact center solutions and social media monitoring. Its solutions enable brands to identify the actions required at the store level to increase customer loyalty and improve financial performance. Market Force was named one of Forbes' America's Most Promising Companies in 2011. For more information, visit http://www.marketforce.com.
###