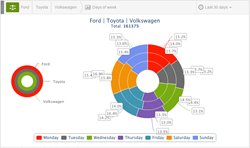 We are seeing incredible interest from agency-side customers in leveraging the power of our white-label solutions. They can pass on the benefits of an enterprise-grade social media listening platform to their customers. Gergo Vari, CEO
(PRWEB UK) 31 March 2014
Replise, the social intelligence company, is proud to announce the successful upgrade of its bespoke social media analytics platform. The new platform has received a significant extension of its analytical capabilities as a result of additional data segmentation tools. Analysts, in-house teams and agencies can now dive even deeper into the raw social media data to mine business insights more easily than ever before. In addition to the more granular analytics, the tool now also boasts an easy to use visualisation widget set that makes the presentation of data fully customisable. This new layer of technology is now powered by several, new, global data-sources. Though this change happened under the hood, it has a significant impact on the company's service offering. Replise' clients can now monitor, listen to and analyse their brand presence, competitive landscape and consumer space in as many markets around the globe as they need to, from a single, cost-effective platform.
"We have successfully completed this stage of our product development roadmap and it brings truly incredible technical innovation into analysing social media content. As we drew up the plans, we realised that such a strong product is perfectly suited to serve global brands and their agencies, hence the integration of global social media and data firehoses came as a natural step in our growth cycle," commented Pal Megyeri, CTO. Replise CEO, Gergo Vari also added that "We are seeing incredible interest from agency-side customers in leveraging the power of our white-label solutions. They can now pass on the benefits of an enterprise-grade listening platform, combined with world-class social media research and intelligence reports to their customers, wherever they may be on the planet. Very few other companies can pride themselves in such a unique offering."
Following the expansion of its HQ team supporting the company's expected growth as well as its sales presences in London, Hamburg, Frankfurt, Warsaw and Budapest, the additional capabilities and the increase in data coverage now place Replise among the fiercest challengers in social media research and intelligence. Miklos Nagygyorgy, COO, emphasised that while the company is undergoing dynamic growth, it is closely monitoring its resource demands and continues to optimise these to manage costs and maintain its competitive pricing that makes it attractive for so many global marketing and communications agencies.
About Replise:
Replise, the social intelligence company, is a leading provider of white-label social media listening services as well as tailor made business intelligence reports that provide cutting edge insights for the company's clients. Founded in 2010, with a strong focus on tool-agnostic business intelligence, Replise integrates classic market research methodologies, novel social analytics and listening technologies with the expertise of an experienced team of global analysts to cater for the needs of the largest marketing, PR and research agencies that service brands and companies in various markets globally. With more than 50 specialists working in offices in London, Hamburg, Frankfurt, Warsaw and Budapest, Replise' ground-breaking technology, global data coverage, and market-leading expertise make it perfectly suited to tackle the challenges of the highly complex social media landscape around the world.
Find out how Replise can turn social media into business intelligence for your clients, Visit: http://www.replise.com/
For press enquiries, contact
Mr Lefty G Balogh, Communication & Partnership Manager, Europe
Phone: +36 1457 8350 - Email: Geza.balogh(at)replise(dot)com