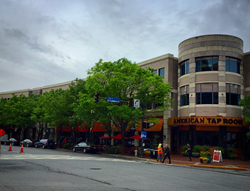 Tracx plans to hire over 200 employees to work from the Maryland location over the next five years.
Bethesda, MD (PRWEB) May 04, 2016
Tracx, the leading social business cloud, announced today that it is expanding its presence in Maryland, and establishing its new global headquarters in Bethesda, MD, at 7250 Woodmont Avenue.
Tracx plans to hire over 200 employees to work from the Maryland location over the next five years. The company has raised approximately $30 million in equity financing and is growing rapidly in the large and thriving $9 billion social media software market. Tracx is the next endeavor of local CEO Rick Rudman who previously co-founded local success story Vocus, which went public on the Nasdaq market and grew to over 1,500 employees before eventually being acquired for close to half a billion dollars.
"People are a software company's greatest asset, making where we work really important in terms of the talent that we attract," said Rudman. "We selected Bethesda because it offers the best of both urban and suburban lifestyles, with easy access to public transportation, quality retail, incredible restaurants, and outdoor recreation. Our location in Bethesda gives people the option to live in Bethesda and walk to work, live in DC and take the metro, or live in the suburbs and avoid the rush hour drive into the city."
In addition to progressive company-wide employee benefits, those working in the Bethesda office will also enjoy a brand new office designed around an open and modern workspace with a focus on team collaboration. The company is currently hiring talented software people in sales, business development and marketing.
About Tracx
Tracx is the leading social business cloud for marketing and customer engagement in the new social economy. Our solution tracks and analyzes mass amounts of data from the social web to deliver deep insights into customers, competitors and influencers. Tracx also makes it easy for companies to engage with consumers and publish content on a variety of social networks. Top brands such as Canon, The New York Times, and Comcast rely on Tracx to identify and target audiences, improve planning, enhance monitoring and effectively engage consumers. Tracx is headquartered in Bethesda with offices in New York City, Tel Aviv and London. For more information, visit http://www.tracx.com, or follow us on Twitter @tracx.