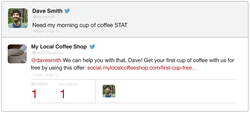 "It's fair that executives want to see a return on their social media investment," says Ben Read, marketing director at HipLogiq. "There are ways to balance the goal of sustaining an authentic brand voice with building new business."
Dallas, TX (PRWEB) April 15, 2014
It happens all too often. A marketing director presents a successful social media strategy to the executive team. The company has lots of friends and followers; they post several times a week and usually get several likes or retweets; and their blog is published fairly regularly. But then come the questions from the CEO: "Yes, but how do we know if we're getting any business from our efforts? We're spending a lot of time and money, but I don't see the bottom-line return."
"It's fair that executives want to see a return on their social media investment," says Ben Read, marketing director at HipLogiq, a social media marketing company. "They've hung in there as marketing built their social media communities, but those communities need to be engaged and contributing to the business growth objectives. There are ways to balance the goal of sustaining an authentic brand voice with building new business."
Read offers three winning ways marketers can present a return on investment (ROI) from their social media strategy:
1) Measure the value of a like. The value of a strong social media community shouldn't be discounted. Each person who likes or follows you is a brand ambassador, wants to know what you have to say and is likely to share your story to the world. But let's face it: numbers look good to executives and help justify a healthy budget. There are several online calculators to help marketers tabulate a unique value for likes. Or, http://www.pcmag.com/ article2/0,2817,2401509,00.asp [view this infographic __title__ What's the value of a like or follow?] that shows the value and cost of each like, follow, share and retweet.
2) Listen for what potential customers want. Companies should always know what people are saying about them across their social media channels and review sites. Listening leads to engagement, and engagement leads to better service, improved products and new customers. As a public forum, Twitter is designed for easy listening. There are many software packages out there to help track conversations by key words, but with HipLogiq's patented software applications – SocialCompass and SocialCentiv – companies can listen for relevant conversations in real time, reply back with an offer, collect contact information, and then automate a sharing process to exponentially increase exposure. Here's a number for the executives: the software's conversion rate averages 34 percent, compared to a traditional direct marketing campaign's 1-3 percent conversion rate.
3) Integrate the blog with social media. According to Sumall.com, 43 percent of marketers claim to have acquired a customer through their blog. But how? Read says by making sure you are promoting the blog and integrating it into your social media and other marketing efforts. "This is also where our second tip on listening helps as well," says Read. "When you are listening for questions about your product or service, you can provide answers in a blog post or eBook." Blogs also increase visibility for search engine optimization (SEO), so your company potentially will rank higher in search results for your industry. Taking a regular temperature reading on your rankings in various search engines and measuring engagement on your blog will give you a good snapshot on how your content is performing.
About HipLogiq
HipLogiq began in October 2012 as SocialCompass, an enterprise solution for social media marketing, now with a white label solution for companies and agencies that want to brand the tool, and a new Spanish language version. Co-founders Lindsey Madison, Adam Root and Bernard Perrine designed the patented technology to help companies target and engage customers over social media in a meaningful, results-driven way. To date, the applications boast an unprecedented conversion rate of 34 percent or higher.
SocialCentiv – launched in March 2013 – works similarly for small to medium businesses, but with a web-based, do-it-yourself solution. During the design of SocialCentiv, leadership decided it was time to evolve the company into an idea factory that produces the most innovative, successful applications in their market space. As a result, HipLogiq also launched in March 2013 and has received $12M in two rounds of funding since May. For more information, go to http://www.hiplogiq.com or visit them on Facebook or Twitter.