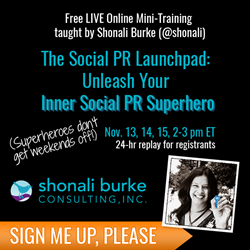 Shonali got an orphaned German Shepherd adopted through social media... all the way across the country! That takes some madskillz.
Washington, DC (PRWEB) November 12, 2015
After years of trying help countless students, clients, and fellow PR pros do away with ineffectual, boring, and simply awful Social PR efforts, noted teacher, strategist and trainer, Shonali Burke, had a decision to make:
Either get more exhausted and frustrated than a Salvation Army bellringer on Veterans Day by continuing to try to solve the Social PR world's woes one frantic tweet at a time... or find a way to help as many as possible at one go.
Thankfully Shonali saw the light - literally, it was a full moon - which led her to developing a unique edutainment experience for industry pros of all stripes wanting to up their Social PR quotient.
Shonali's free, LIVE, online mini-training event, The Social PR Launchpad: Unleash your Inner Social PR Superhero will take place on November 13, 14, & 15 (2015, of course) from 2-3 pm ET every day (with a 24-hour replay for all registrants).
Superheros need super-sidekicks. And seeing as how their pet-mom was trying to master the art of changing in a 1970's-era telephone booth, her dogs Suzy Q. and Lola stepped in to comment.
"Shonali really knows her stuff," said Suzy Q, the cancer-fighting Corgi mix that Shonali's fans know and love. "I mean...hello! She got an orphaned German Shepherd adopted through social media... have you forgotten?!"
Added Lola the Basset: "Why wouldn't you get your Social PR swag on with Shonali?! It's online, it's free, AND there's a replay... what's to lose? Plus, if all ya'll are lucky I might make a special appearance."
This three-day action-packed event will include:

a own personal 3-point Growth Action Plan, to go from Social PR Not-Quite-Zero to Superhero and master today's Social PR landscape
soaking up Shonali's signature 15-minute-a-day formula for quick yet effective smart social listening, to stay always ahead of the intelligence curve
grabbing a 6-pronged Twitter-inspired media relations mind map the Social PR way, to build better relationships with media who matter and do it faster, stronger, higher!
"Mom also said there will be special treats for those who actually make it live to the mini-training," said Suzy Q. "Not beef jerky, though, which kinda sucks, IMHO."
A strong endorsement from two very credible and cuddly canines. Visit socialprvirtuoso.com to sign up for this free, live, online mini-training event, that begins Friday, Nov. 13, at 2 pm ET.