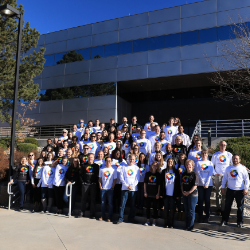 "We are pleased to be selected as a Top 3 Digital Marketing Agency in America. I'm proud of our team. They have worked very hard to get us where we are today." Greg Walthour, CEO
COLORADO SPRINGS, Colo. (PRWEB) February 20, 2019
Upcity evaluated 33,000 marketing services providers throughout North America to identify the best full-service digital marketing agencies for their Excellence Awards. These awards offer peace of mind to business owners by providing them with a list of digital marketing partners they can trust. Colorado Springs-based SocialSEO was chosen for the #3 spot on UpCity's prestigious list of the top 30 digital marketing agencies in the United States. SocialSEO's expertise in Search Engine Optimization and several other essential digital marketing services provides business owners with the tools they need to boost their overall brand visibility, drive traffic to their website, and improve their bottom line.
Dan Olson, CEO and Founder of UpCity, states, "Our goal when introducing the Excellence Awards to our community was to further UpCity's mission to create and empower successful relationships between business owners and the best marketing professionals."
SocialSEO CEO Greg Walthour states, "We are pleased to be selected as a Top 3 Digital Marketing Agency in America. I'm proud of our team. They have worked very hard to get us where we are today."
Using an algorithm comprised of nine factors including customer reviews, presence in search engines, domain authority, overall industry experience, and website speed, UpCity calculated data from trusted third party sources along with their own to arrive at the top digital marketing companies and provide business owners with the information they need to find the best partner for their digital marketing needs. UpCity has become the most trusted source for local businesses seeking digital marketing agencies, with over 100,000 businesses across 300+ local US markets turning to UpCity to find fully-vetted, high quality agencies like SocialSEO.
ABOUT SOCIALSEO:
Experts in local, national, enterprise, and ecommerce SEO, social media, pay-per-click advertising and video production. SocialSEO offers its customers an effective and refreshing approach to digital marketing. The company culture is one of family, where employees are encouraged to foster ideas, and challenged to conduct business with trust, honesty, and integrity, partake in decision and policy making, be solution minded, exhibit positive thinking and energy, and lead by example at every opportunity. SocialSEO maintains offices in Denver, Colorado Springs, Phoenix, and Baltimore, and have also expanded into San Diego and Austin.
ABOUT UPCITY:
UpCity is the leading online marketplace that connects businesses with locally-based, qualified agencies and digital marketing service providers. The company provides a comprehensive directory of trusted marketing service providers in local markets across the United States and Canada, as well as across industry verticals.