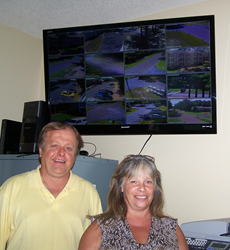 The safety and security of our community always comes first.
Galloway, NJ (PRWEB) August 14, 2014
Society Hill at Galloway II, a popular residential community in Galloway Township, New Jersey, recently introduced a state of the art surveillance system offering the highest level of safety and peace of mind to approximately 1,000 residents that comprise the South Jersey townhome and condominium community.
"The safety and security of our community always comes first. Society Hill made it a priority to offer 24/7 surveillance in addition to many other amenities, such as a playground, tennis courts and clubhouse, that are available for our residents," says Harold Hannum, Board President of Society Hill at Galloway II.
Society Hill at Galloway II, located approximately 15 miles outside or Atlantic City, consists of 490 units spread out over 28 well-maintained acres of lush green property. Society Hill at Galloway II is conveniently located to Stockton State College, Marriott Seaview Golf Resort, Atlantic City Medical Center, Bacharach Institute for Rehabilitation and the brightly-lit casinos along the Atlantic City Boardwalk.
The surveillance system cost an estimated $400,000, offering 24/7 video surveillance across approximately 300 cameras strategically located throughout the development.
The web-based surveillance system displays real-time footage across three large video screens in the management office, allowing the Society Hill at Galloway II community management to respond to and report emergencies, and also allows staff to monitor maintenance work, follow the progress on indoor and outdoor projects and identify parking violations.
"Recently, we were able to assist local law enforcement with the apprehension of a suspect sought in an attempted break-in a nearby property. Our cameras were able to help identify the suspect and led to his arrest," according to Kimberly Salayi, from mem property management company, who serves as the property manager for Society Hill at Galloway II. "We now have new technology that can give everyone additional protection and peace of mind. We're also able to use the video surveillance as a tool against frivolous lawsuits."
As president of a seven-member Board, Harold Hannum has led a number of popular initiatives to enhance the community. Several years ago, Society Hill at Galloway II decided to install new irrigation wells, saving approximately $80,000 per year in water bills. "We are exploring a number of other improvements for 2015 and beyond, including the possibility of integrating solar energy to reduce electricity bills," says Hannum. The community has also been reroofing older buildings and is accepting proposal for reroofing an additional four buildings in the community.
"Society Hill is an exceptionally well run community and they are continuing making improvements to enhance the lifestyle of residents," says Martin Laderman, founder and CEO of mem property management corporation in New Jersey. "We've been working together for years and the Board and residents are proactive and highly engaged."