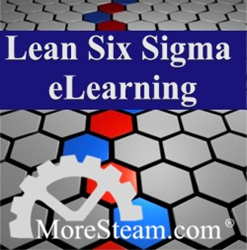 MoreSteam's flexible, interactive e-learning program is a great option for SOCMA members as they continue to work to achieve operational excellence at their facilities.
Columbus, OH (PRWEB) October 01, 2014
The Society of Chemical Manufacturers & Affiliates (SOCMA) recently announced it would offer Lean Six Sigma training to its members as part of its effort to bring progressive process improvement techniques to organizations in a convenient, cost-effective manner.
Members may now enroll in a variety of online courses ranging from the introductory Lean Six Sigma Overview, intended for individual process improvement team members; to the Green Belt course, intended for team leaders; to the advanced Black Belt course, which entails comprehensive training in the Lean Six Sigma body of knowledge. Additional short courses such as Lean Methods and Fundamentals of Project Management are also available.
SOCMA's enhanced offering is made possible through an agreement with MoreSteam.com.
"A number of our members use Lean Six Sigma methodology to improve the flow and quality of their processes," said Lawrence D. Sloan, SOCMA President and CEO. "MoreSteam's flexible, interactive e-learning program is a great option for SOCMA members as they continue to work to achieve operational excellence at their facilities."
MoreSteam.com provides world class, web-based Lean Six Sigma training as a more flexible and affordable alternative to traditional classroom training methods. Serving more than 2,500 corporate clients and in excess of 435,000 individuals, Moresteam.com has developed unique Blended Learning technologies for delivering Lean Six Sigma training and supporting process improvement initiatives.
"The nature of our business – helping our customers to sustain process excellence – directly aligns with SOCMA's objectives," stated Tim Kelley, MoreSteam.com Executive Vice President. "Lean Six Sigma provides a standardized methodology as a means of assuring high quality, safe operations, and a competitive cost structure. We are proud to support SOCMA's efforts and look forward to working with their members."
The MoreSteam curriculum has been reviewed and approved by the American Society for Quality (ASQ) and the Project Management Institute (PMI). MoreSteam.com also partners with top educational organizations, including The Ohio State University, The George Washington University, and Cal Poly.
About SOCMA
The Society of Chemical Manufacturers and Affiliates (SOCMA) is the only U.S.-based trade association dedicated solely to the batch, custom and specialty chemical industry. Since 1921, SOCMA has represented a diverse membership of companies across every segment of the industry. SOCMA advocates on behalf of the industry for rational U.S. laws and regulations that affect the members' competitiveness and bottom line. In addition, SOCMA offers programs and resources that maximize companies' commercial and networking opportunities and increase public confidence in specialty chemicals. For more information about SOCMA, visit our website at http://www.socma.com.
About MoreSteam.com
MoreSteam.com is the leading global provider of online Lean Six Sigma training and Blended Learning technology serving over 50% of the Fortune 500 with a full suite of Lean Six Sigma e-Learning courses, data analysis software, discrete event simulation software, online project tracking software, online testing tools, and project simulations and games. MoreSteam's mission is to enable people to advance the performance of their organizations by delivering powerful tools for process improvement to the widest possible audience at the lowest price available. Learn more by visiting our website at https://www.moresteam.com.