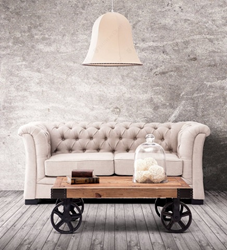 It's important to consider how the sofa will be used, namely whether it will be mostly for show or mostly for comfort. The most interesting looking sofas are rarely comfortable, and the most comfortable sofas are rarely the most beautiful.
(PRWEB) February 11, 2015
HomeThangs.com – the Online Home Improvement Store has made their goal to deliver the right product to the consumer. With that in mind, shopping and home design tips, as well as special product selections are being introduced.
Buying a new sofa is a big investment, not just because they tend to be on the expensive side, but because they last a long time, and have a big impact on the overall look and feel of a living room. HomeThangs.com has introduced a guide to choosing the right style sofa to act as the foundation for the living room, as well as striking the right balance between appearance and comfort.
Traditional
Traditional sofas are big, square, and hefty, with neutral colored upholstery and thick, pillowy cushions. More antique-inspired sofas may have more intricate details, like button tufting, shaped backs or arms, or wood accents, but by and large traditional sofas are designed for the average living room – and for comfort.
French Country/Farmhouse
A "found" antique style has become quite popular in recent years, and in terms of sofa style that means combining antique elements (like those mentioned above) with simple materials like canvas or linen colored upholstery or unfinished wood parts. This creates a look that's sophisticated yet humble, and that works great with a cottage or farmhouse style.
Contemporary
Contemporary sofas are sleek and lean, with sharp square lines, metal legs, and a slim profile. Generally better for smaller or more modern spaces, contemporary sofas emphasize a simplicity of style, but often come with modular functionality, like fold-out arms, chaises, or full futons.
Retro/Mid-Century
Mid-century style sofas have all the simplicity of a contemporary design, but with a little more stylistic flair. Instead of all straight lines and rectangles, retro sofas play with geometric shapes, and often feature tapered wood legs and bold, colorful or patterned upholstery that hearken back to the 50s, 60s, and 70s.
Style vs Comfort
Any of these styles can be dressed up to be more distinctive, or dressed down for added comfort – it all depends on the style of the room and how the sofa will be used. Mixing and matching unusual features, materials, and fabrics between different styles is a great way to get a more eye-catching style, while sticking to simple yet iconic features with a very basic profile will keep the impression of the style, but generally result in a more comfortable sofa.
For more detailed information about each of these styles, check out the full article here.
HomeThangs.com is not only a home improvement superstore, it also provides expert design tips and a comprehensive shopping guide, taking the ideas from professional interior designers, and offering tips to the consumers on how to pick the products to best suit their needs.