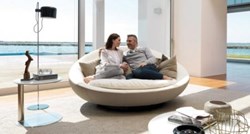 The 14,000 square foot showroom of italydesign.com is curated with one of the best selections of Italian designed sofas and sectionals in the USA. - Nanci Hamar
Emeryville, CA (PRWEB) September 24, 2013
italydesign.com is an innovative and cutting edge factory direct importer of Luxury modern and contemporary furniture offering many of Italy's most prestigious brand names coupled with the highest level of customer service.
italydesign.com is located in Emeryville, California.
Their showroom and warehouse located in the San Francisco Bay area is one of the largest facilities for Luxury level high design Italian furniture in the United States.
"The 14,000 square foot showroom of italydesign.com is curated with one of the best selections of Italian designed sofas and sectionals in the USA ." - Nanci Hamar
The boutique styled 5-Star luxury customer service of italydesign.com is a theme throughout the entire transaction, from initial contact to product placement.
To offer their clients the fastest possible delivery times, italydesign.com maintains one of the largest inventories in the USA of Luxury high design furniture made in Italy. In addition, they offer custom orders from Italy's top brands so clients can have access to the specific designs, colors and sizing for their project's unique requirements.
During the Sofa sale, clients of italydesign.com can enjoy savings on their complete collection of in stock and custom ordered sofas and sectionals. Featured are some of Italy's most famous and respected brand names including Alivar, Il Loft, Interiors by Aston Martin, Mercedes-Benz Style and Tonino Lamborghini Casa.
The extensive collection of italydesign.com includes top designers for modern furniture such as Mies Van Der Rohe, Le Corbusier, Pininfarina, Eero Saarinen and Shin & Tomoko Azumi.
In addition to an outstanding collection of world class modern furniture and attractive sale pricing, you will receive the top level customer service at italydesign.com. The exemplary customer service of italydesign.com is confirmed by an A+ rating with the Better Business Bureau and the numerous customer reviews expressing their client's satisfaction posted on italydesign.com reviews page. You can purchase online at http://www.italydesign.com or visit the exciting 14,000 square foot showroom in Emeryville, CA.
Please check http://www.italydesign.com for their special showroom hours.