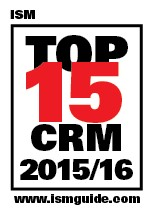 Soffront is a leader in the fast-paced CRM industry. -- Barton Goldenberg, founder and president, ISM
Fremont, Calif. (PRWEB) June 17, 2015
Soffront Software Inc., announced today that its Soffront CRM was selected by ISM Inc., Customer-Centric Strategic Advisors, as a Top 15 CRM Small & Medium Business Software Award winner for 2015/16.
Soffront CRM was chosen after intensive testing by the ISM Software Lab. Each package was rated according to 179 selection criteria, including 96 business functions, 42 technical features, 18 implementation capabilities, 6 real time criteria and 17 user-friendly/support features.
"Soffront Software is to be praised for obtaining the Top 15 honor as ISM's software selection process is strenuous and comprehensive," said Barton Goldenberg, founder and president, ISM. "Soffront is a leader in the fast-paced CRM industry."
"The winners of the Top 15 awards are the influencers in the CRM community as they make significant advancements in both functionality and connectivity for sales and marketing professionals; offer better decision making tools for executives; and provide more intimate connectivity with today's digital clients," said Goldenberg who sees Social CRM and the Internet of Things – the connectivity of devices, systems and services – among the new trends in the CRM software industry.
"We're proud to have received this prestigious award," said Manu Das, president of Soffront Software. "Soffront's integrated suite of sales, marketing, and service automation removes silos of information across a company. Leveraging over 22 years of CRM experience, we have made our CRM to be the easiest to use and affordable. Thanks to our team of dedicated developers and managers, Soffront CRM is the most adopted CRM in the SMB market."
About Soffront Software, Inc.
For over twenty-two years, Soffront has provided CRM solutions for small-to-medium and enterprise companies. Compared to other leading CRM providers, Soffront CRM drives more sales by helping sales teams spend more time selling and less time in the CRM. Companies that switch to Soffront report significant cost savings with drag-and drop customization and the elimination of add-ons. Soffront's integrated CRM contains all of the required functionality including sales force automation, marketing automation, customer service, and project management. Soffront CRM provides a higher return on investment, generating more revenue, more savings and a better user experience. Soffront is privately held, debt-free and profitable.
For more information, call (510) 413-9000, email marketing(AT)soffront.com or visit http://www.soffront.com.
Trademarks are the property of their respective owners.