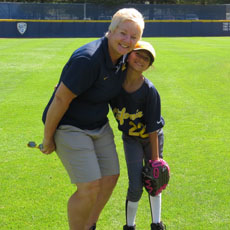 Coach Ninemire represents what is great about the sport of softball.
San Rafael, CA (PRWEB) May 01, 2015
Returning for 2015 are the Nike Cal Softball Camps, directed by Head Coach, Diane Ninemire. Ninemire and her staff are offering an Elite Showcase program for experienced players ages 12-18 and a Bear Cub Camp for girls ages 6-11 to ensure every camper in attendance gets the most out of camp.
The Elite Showcase Summer Camp emphasis will be to prepare athletes for advanced level competition through individual skill development and game strategies in a competitive environment. Whereas the Bear Cub All-Skills Summer Camp is designed to help players learn and improve their skills in a fun environment. Campers will have the opportunity to learn and develop their skill sets as they work alongside the Cal Bears staff and players.
The Nike Cal Softball Camps are the ultimate summer program for youth players. "Coach Ninemire represents what is great about the sport of softball," states Mike de Surville, Senior Vice President of US Sports Camps. "Not only has she devoted her life to helping collegiate athletes achieve their dreams, she continues to give back by instilling her years of experience and love for the sport to young ladies from around the United States and the World."
Since her first year in the dugout in 1988, Diane Ninemire has continually pushed Cal to new heights as one of the most successful softball programs in the nation. Now entering her 27th season as head coach of the perennially powerful Golden Bears, the NFCA Hall of Famer is part of an elite group of world-class coaches, with more than 1,100 career wins, a national championship, two national Coach of the Year titles and numerous national and conference honors during her tenure.
About US Sports Camps
US Sports Camps (USSC), headquartered in San Rafael, California, is America's largest sports camp network and the licensed operator of Nike Sports Camps. The company has offered summer camps since 1975 with the same mission that defines it today: to shape a lifelong enjoyment of athletics through high quality sports education and skill enhancement.
Players, Coaches, Parents and others interested in the 2015 Nike Softball Camps can visit ussportscamps.com or call 1-800-645-3226.