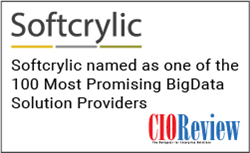 "CIOs face challenges in aggregation, consolidation, and normalization of multi-channel data. Softcrylic has been successful in solving this ever growing data challenge" - John Flavin, CEO, Softcrylic
FREMONT, CA (PRWEB) August 02, 2016
Softcrylic announced today that it has been ranked in the list of "100 Most Promising Big Data Solution Providers" by CIOReview.
"We are happy to announce Softcrylic as one of the 100 Most Promising Big Data Solution Providers 2016 for helping clients maximizing their data assets as well as the business impact of their IT investments," said Jeevan George, Managing Editor of CIOReview. John Flavin, CEO of Softcrylic says, "CIOs are facing challenges in aggregation, consolidation, and normalization of multi-channel data. Softcrylic has been successful in deploying our platform, TapestryKPI, as well as our services that solve this ever growing data challenge without hampering our clients' productivity."
For further information on the listing, please click the link CIOReview 2016.
Softcrylic specializes in areas of Application Development, Automated Testing, Data and Digital Analytics and DevOps. They provide solutions, consulting services and extended teams in these areas for their clients. Softcrylic has also built products tackling two major challenges IT organizations face today: data aggregation and software testing roadblocks. Their product, TapestryKPI, is a Cloud-based Analytics reporting and data aggregation platform built to unify the ever growing and fragmented digital data space. While their other product, 'Automate-On', helps organizations achieve quicker and more accurate software releases by aiding in the automation of functional, visual and performance testing on multiple browsers, devices, operating systems and screen resolutions.
About Softcrylic
Softcrylic helps organizations navigate and execute the path of Digital Transformation through IT solutions and services. Since 2000, Softcrylic has worked with both start-ups and Fortune 500 organizations to help make their company goals a reality. For more information, go to http://www.softcrylic.com or LinkedIn to learn more.
About CIOReview
Published from Fremont, California, CIOReview is a print magazine that explores and understands the plethora of ways adopted by firms to execute the smooth functioning of their businesses. A distinguished panel comprising of CEOs, CIOs, IT VPs including CIOReview editorial board finalized the "100 Most Promising Big Data Solution Providers 2016" in the U.S. and shortlisted the best vendors and consultants. For more info: http://www.cioreview.com