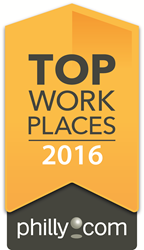 We are constantly striving to make SofterWare the best place to work, and we do that by listening to employees, just as we listen to clients to improve our products and services.
Horsham, PA (PRWEB) April 28, 2016
SofterWare, Inc. has been awarded a 2016 Top Workplaces honor by Philly.com. The Top Workplaces lists are based solely on the results of an employee feedback survey administered by WorkplaceDynamics, LLC, a leading research firm that specializes in organizational health and workplace improvement. Several aspects of workplace culture were measured, including Alignment, Execution, and Connection, just to name a few.
"The Top Workplaces award is not a popularity contest. And oftentimes, people assume it's all about fancy perks and benefits." says Doug Claffey, CEO of WorkplaceDynamics. "But to be a Top Workplace, organizations must meet our strict standards for organizational health. And who better to ask about work life than the people who live the culture every day—the employees. Time and time again, our research has proven that what's most important to them is a strong belief in where the organization is headed, how it's going to get there, and the feeling that everyone is in it together." Claffey adds, "Without this sense of connection, an organization doesn't have a shot at being named a Top Workplace."
SofterWare was founded in 1981, and has grown over more than 35 years from a small entrepreneurial business to a $44 million+ company with over 10,000 nonprofit, childcare, camp, school and payment processing clients.
SofterWare Co-Founder and CEO Doug Schoenberg noted, "We're honored to have won this award for the fifth time in the last seven years. We are constantly striving to make SofterWare the best place to work, and we do that by listening to employees, just as we listen to clients to improve our products and services."
SofterWare Co-Founder and President Dr. Nathan Relles said, "Our success and continued growth is all due to the outstanding professionalism and dedication of our people. We take great pride in reading some of the comments our staff shared anonymously, such as:

I feel appreciated, and even the littlest thing makes a difference and is recognized.
I'm treated like a person here and I feel that what I do makes a difference.
There are constantly new challenges and things to learn."
Learn more about this survey ranking by visiting: http://www.softerware.com/topworkplacesprofile
About SofterWare, Inc.
SofterWare Inc., provides software for several vertical markets and the company's client base includes thousands of organizations throughout North America and the world. SofterWare's mission is to develop, market, maintain and support software that is easy to learn, easy to use, and adaptable to users' unique needs. SofterWare currently offers DonorPerfect Fundraising Software and Donor Management, EZ-CARE2 and EZCare Online Child Care Management Software for Daycare Center Management and School-Age Child Care Management; EZ-CAMP2 Camp Management Software and Camp Online Registration; and MMS for Schools: Student Information Systems. For more information on SofterWare and its products, please visit http://www.softerware.com.
About WorkplaceDynamics, LLC
Headquartered in Exton, PA, WorkplaceDynamics specializes in employee feedback surveys and workplace improvement. This year alone, more than two million employees in over 6,000 organizations will participate in the Top Workplaces™ campaign—a program it conducts in partnership with more than 40 prestigious media partners across the United States. Workplace Dynamics also provides consulting services to improve employee engagement and organizational health. WorkplaceDynamics is a founding B Corporation member, a coalition of organizations that are leading a global movement to redefine success in business by offering a positive vision of a better way to do business.