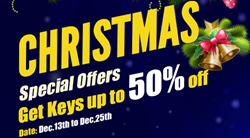 (PRWEB) December 15, 2013
Hotcdkey.com and allcdkey.com, owned by Softisland Infotech Co Ltd, a well-known company operating since 2004, have recently released a series of discounted prices for Christmas, and customers can pick up cheap keys that are available for a limited time.
The gaming industry has been growing day by day, and the demand for authorization keys for all popular games are increasing constantly. Bearing this in mind, hotcdkey.com has continually offered game CD key products at a very affordable price. At the same time, their excellent customer service has helped them in establishing a good name.
Hotcdkey.com now just announced several enticing discount offers on Game CD keys, which will be valid from December 13 to December 25, 2013.
Check the promotion page to take a look at all the current offers.
HotCDKey.com and Allcdkey.com are owned by the Softisland Infotech Co Ltd., which has been providing top quality gaming products and great service to customers from all over the world for more than seven years. The proven record and the large customer-base have contributed the leading position of Softisland Infotech Co Ltd in the game CD key market.
With regards to the emphasis on customer service, the marketing manager of hotcdkey.com was quoted as saying, "We always put our customers on top of our priority list and use all resources to serve them better. This time, we started a Christmas Campaign to benefit our customers. 10-50% discount is applied on all products, and they get our round-the-clock online support too."
These CD keys will be offered on a limited stock basis, and the products are divided into three categories. The company offers hundreds of CD keywords, such as Aliens Colonial Marines, Call of Duty, Crisis 3, StarCraft, and more.
The festive discounts start at 10% and go to 50% on various products. Discounts are available on almost all the popular Game CD key products.
More details about the Christmas promotion are available on http://www.hotcdkey.com and http://www.allcdkey.com.
About HotCDKey.com and allcdkey.com
HotCDKey and Allcdkey are leading CD key portals serving the customers since 2004, offering authorized CD key for all the games such as WOW, Aliens Colonial Marines, Call of Duty, StarCraft, and more.
They have over 200 game activation keys and game time cards and guarantee safe and speedy transactions to the worldwide gamers, alongside round-the-clock support to the gaming enthusiasts.
Everyone can check out Allcdkey.com and Hotcdkey.com to take a look at all the exciting X-Mas offers and grab the keys.
For Media Inquiries:
Contact Person: Ms. Emma
Telephone: (1)-408-898-4825
Email: supplier(at)hotcdkey(dot)com