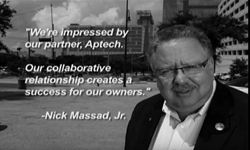 Customer stories are among Softscribe Inc.'s most effective deliverables, based on clicks back to clients' websites.
BENTONVILLE, AR (PRWEB) February 07, 2017
Email, LinkedIn and short customer story videos are 3 top marketing tools B2B tech companies will use in 2017 to increase sales and influence, said Julie Squires, CEO of Softscribe Inc, a leading hotel tech PR firm.
Softscribe Inc. Client, SVP of Sales Likes Mobile-Ready Stories.
Softscribe Inc. debuted the mobile-ready email version of a customer story during a recent client meeting. The SVP of sales emailed immediately that he liked it. It was valuable feedback from a top industry sales exec.
Softscribe Inc., Award-Winning Hotel Tech PR Firm Achieves Results for Clients.
Softscribe Inc, a leading tech PR firm for companies selling into the global hospitality market, is known for innovation. Squires said Softscribe Inc.'s industry awards for integrated campaigns and writing affirm what her company achieves for clients: Results.
3 Top B2B Marketing Tools in 2017
"Three of the most popular PR and marketing tools we applied for our publicly traded and privately held client companies are email, LinkedIn, and short customer story videos," Squires said.
Email Mobile-Ready Stories.
1. Have a PR firm write a story in the full form format.
2. Read it on a mobile device. How was that experience?
3. Next, format the press release to be mobile-ready, like this release. View it again on a mobile.
Softscribe Inc. clients agreed it was easier to read.
LinkedIn is the First Point of Contact. Make It Personal
LinkedIn profiles should be personal. Softscribe Inc. recommends to have it written by professionals. Here are 3 tips to customize a profile and make it more effective.
1. Personalize the URL. Use the person's full name.
2. Publish company press releases within the LinkedIn profile.
3. In the LinkedIn profile summary include answers to 3 questions:
a. What is best about the person's role?
b. Which 3-5 words or phrases best describe the person's style of leadership?
c. What influences and/or life lessons most profoundly impact the person's business experiences?
Remember to respect LinkedIn's word count limits.
Videos Earn a Thumbs Up from Forrester Research and Forbes.
One minute of a well-executed video has the same impact on decisions as 1.8 million words, according to Forrester Research.
And a Forbes study points out that 59 percent of executives would prefer to watch a video than to read text.
Why?
Videos are easier to absorb and make it simpler to connect with the speaker. Videos catch the eye in social media feeds and in Google searches.
Customer Story Videos Deliver Results
Customer stories are among Softscribe Inc.'s most effective deliverables, based on clicks back to clients' websites. Click here to view a short customer story video for long-time Softscribe Inc. client Aptech Computer Systems, Inc.
Tech Companies: Interested in a Higher Brand Profile at HITEC? Call Softscribe Now.
For technology companies exhibiting at HITEC 2017 in Toronto, Ontario, Canada June 26 to 29, need help preparing for a more successful show? Call or email Michael Squires, president of Softscribe Inc., at 404-256-5512 or mbs(at)softscribeinc(dot)com.
Travel well to Toronto!
About Softscribe Inc.
Generates the Right Client Messages 100% of the Time.
Softscribe Inc. is an award-winning tech PR firm that specializes in B2B public relations, branding and market consulting.
We achieve significant business growth for tech companies that offer enterprise solutions to the hotel market and related industries. We generate the right messages for client audiences 100% of the time. This is essential to close sales.
Achieves Significant Business Growth for Clients.
Softscribe Inc.'s professional team surpasses expectations with an average 19 years' industry experience in branding, marketing and technology PR.
We are proud of our best-in-class clients and are ready to help you, too. Please give us a shout now, or visit http://www.softscribeinc.com.
Resource Articles
Why Video Marketing Will Dominate In 2017.
Video in the C-Suite