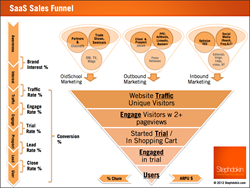 SaaS market will hit over 131 billion in 2014 and grow just over 18 percent annually
(PRWEB) February 25, 2014
Scott West of SaaS Company "Cloudsway " has released a new guide on Fannit that aims to help SaaS companies take their online software to market.
One of the biggest growing industries in the U.S. are SaaS services. According to a Gartner research report the SaaS market will hit over 131 billion in 2014 and grow just over 18 percent annually. With growth rates having grown from 200 to 400 percent, these online hosted solutions are quickly becoming one of the most popular investment mediums for venture capitalists. The question is, how can SaaS companies market themselves more effectively? Read more inside SaaS secrets here.
Mr. West says that the million dollar question is, "What's the quickest, easiest, and fastest growth strategy to accelerate your SaaS subscriber base?" The answer, "Integrate with established platforms: Seek out and develop integrations with other products and platforms."
Some of the other points for marketing a Software As A Service is to offer a free trial or a freemium option. Mr. West gives a very detailed sales funnel here to help marketers develop their funnel.
Fannit.com uses the Internet, social media and email to help you connect with prospective new customers and current customers to generate business growth and improve reputation. Fannit uses unique Internet marketing techniques like search engine marketing (SEM), content development, search engine optimization (SEO), pay per click (PPC), social media marketing (SMM), Lead Conversion Strategies and email marketing to help you grow your business.