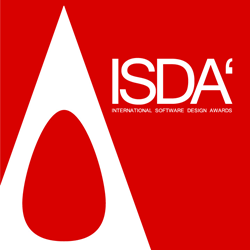 Best software designs will be highlighted.
Como, Italy (PRWEB) March 01, 2014
A' Design Award & Competition today announced the opening of nominations for the A' International Software Design Awards (ISDA) which aims to identify the most innovative software designs worldwide. The A' International Software Design Awards will recognize, highlight and promote best software developers and outstanding companies in the IT industry for their innovative, creative and intelligent software designs that demonstrate originality, ingenuity and creativity.
Entries to the International Software Design Awards will be peer reviewed and anonymously judged by a jury panel of established scholars, press members and design professionals. Entries will be considered for their usability, user interface design, fault tolerance, reliability, ease of learning, ease of configuration, resource friendliness, and ease of installation & uninstallation as well as visual appeal and overall aesthetic design. Software that could help increase productivity in work environment will be highlighted, but the greatest attention will be given to programs which would enable users to demonstrate their creativity.
All design award winners will receive a special 3D printed metal trophy, the award certificate, yearbook, and a complimentary invitation to the award ceremony in Italy. Winners will also be given a license to use the "Award Winning Design" logo & graphic on their product packaging and as a part of their communications. Winning entries will further be translated to twenty languages and communicated to press members worldwide to ensure that the laureates get the international attention they truly deserve.
Entries must be designed in the last 10 years to be eligible to take part in the ISDA accolades. Entrants are required to submit a series of screenshots of their software applications as well as a short video or PDF file that demonstrates the main program capabilities and usage. Entries will be accepted till March 30, 2014 by 23.59 GMT+1. Results will be announced on April 15, 2014. Applications can be made online at http://www.adesignaward.com.
About the International Software Design Awards
A' Design Award & Competition established the International Software Design Awards to highlight, promote and advocate outstanding software companies and designers that benefit society through their excellent software designs which enable users to accomplish more, work more efficiently or be more creative. The ISDA accolades serves as an incentive for software developers and designers worldwide to come up with better applications that are not only functional but also fun, educative and user-friendly.
About the A' Design Award & Competition
A' Design Award & Competition organizes more than hundred design contests and competitions each year in all design disciplines and industries. The primary aim of the A' Design Award & Competition is to promote good design practices, projects and products worldwide that creates positive impacts on the general public. Learn more about the A' Design Award & Competition at http://www.whatisadesignaward.com.