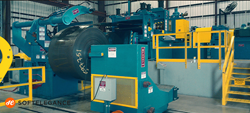 The decision to use custom software development service instead of implementing modern ERP was made by the company to a large extent because of financial reasons.
Houston, TX (PRWEB) August 14, 2014
The Client:
A world-wide leader in the design, manufacture and sale of equipment and components used in oil and gas drilling and production. One of the leaders in supply chain integration services to the upstream oil and gas industry, and the provision of oilfield inspection and other services.
The Challenge:
To develop a sophisticated, secure and reliable software system to manage and automate all processes of the manufacturing chain: from warehouse tracking, product manufacturing, and quality control to sales, handling and shipping, through to post-sales support and service.
The Solution:
SoftElegance – a software development outsourcing company that specializes in customized software solutions – was engaged to develop and implement a system that would amalgamate and automate the company's business processes.
Tubing manufacturing and distribution is an extremely complicated process that involves multiple internal and external parties and different technological operations. The company's existing processes involved many paper documents and archives, manual quality matrix testing and calculation and time consuming semi-manual inventory processes.
SoftElegance's approach has simplified an extremely complex network of departments and workflows, designing a streamlined and easy-to-use software solution, comprising the following main modules:
The Sales system provides insight into planned and actual revenue summary and details. A customer enquiries component manages enquiries, makes sales decisions and provides data for easy revenue analysis. Forecasting of current, next and future months allows for easy monitoring of the sales life cycle, due date tracking and client's order history.
The Production system manages production queues and operations, from creating requests for strip slitting to the end of string milling. String planning, production step monitoring and yard/warehouse location tracking are key features in the production system. The Production module is integrated with other system's modules allowing for initial and final quality tests. This is a unique feature as the majority of manufacturers typically only automate one production line without relating it to other production business processes.
Operations Quality covers various measurements, from coils receipt to bias welds quality checks. It includes digital radiography exams, hydrostatic pressure testing, and electromagnetic inspection. Quality control is performed according different specifications and may be from templates or set up from scratch.
The Shipping system tracks shipment preparations and delivery. It allows recording and tracking of different steps occurring with each shipment. The main idea of shipping process tracking is ensuring that all parts/materials are included, all shipping standards/checks are followed etc. The shipping process is a verification process, and not linear, as some phases in the cycle may occur at the same time.
Spools tracks receiving, usage and shipments of the wooden and metal spools with coils, strips, strings or empty ones. The module integrated with RFID sensor for convenient tracking over the yard. All the tubing manufacturing, service and shipping activities heavily rely on the spools storage. It is important to use spools with proper parameters, such as dimensions, maximum weight, durability etc., for smooth and safe operations.
A Material Handling application tracks item placement over the territory and stores, and records requests for material movements and completed deliveries. It is used to assist both the office personnel and the workers who perform actual material moves on the forklift cars.
Alerts tracks special critical and informational conditions in all applications, sends email notifications, and provides issue detail lists with access to respective issues. There are two types of alerts: Informational and Action Required, that might block all production processes. Online adjustment and creation of new alerts is an available function.
Spec Metrics is a flexible set of various conditions that determine if particular measurements (wall width, hardness, seam size, chemical concentrations) are within allowed range or not. It consists of generic specifications – reused for different strings and specifically for other strings.
The OSC sub-system informs the users about Out-of-Spec Conditions and ensures that product which does not conform to generic requirements is properly detected, identified and documented to prevent unintended use. There are many different OSC cases, involving different workflows, decision makers and available actions.
The following reduced time spent on quality control procedures, time spent on inventory tracking, and time spent on service/shipment planning and tracking, improving efficiency and effectiveness as well as considerably reducing human errors factor in all operations.
To download the presentation, visit:
http://www.softelegance.com/Business_Processes_Automation_Case_Study.pdf
About SoftElegance:
Founded in 1993, SoftElegance is a software development outsourcing company that specializes in affordable custom software development and software solutions for business, including SaaS systems, sophisticated web applications, and business processes automation software. SoftElegance has developed customized software solutions for FORTUNE 500 as well as dynamic SMB companies.
SoftElegance recently participated in the Offshore Technology Conference – the world's premier event for the development of offshore resources in the fields of drilling, exploration, production and environmental protection. The company also attended the International Festival for Business in Liverpool – an annual global event that brings together the smartest entrepreneurial minds and best business opportunities, and Microsoft's TechEd, this year in Houston, which brings together the best and brightest minds in innovative technology solutions. SoftElegance has offices in Houston, London, and Kiev.
For further information, interviews and images, contact:
USA and Canada:
Roman Beketov
281 787 7166
rbeketov(at)softeleganceusa(dot)com
http://www.softeleganceusa.com
Europe:
Andy Starzhinsky
+44 (0) 20 7048 7339
andy.starzhinsky(at)softelegance(dot)com
http://www.softelegance.com