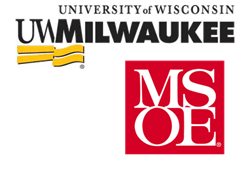 This is an opportunity for students in the software engineering field to gain exposure to real-world workplace experiences that complement theoretical knowledge learned in the classroom. - Mary Spencer, Director of Career Services at MSOE
Milwaukee, WI (PRWEB) October 03, 2013
MSI Data, a leading provider of software for the field workforce, including field service management software and inspection software, has created partnerships with the University of Wisconsin-Milwaukee's College of Engineering and Applied Science (UWM CEAS) and the Milwaukee School of Engineering (MSOE) for long term, dedicated internship positions for students majoring in software engineering disciplines at each university.
Through the partnership, MSI Data will maintain software development intern positions continuously, dedicated to selected UWM and MSOE students of junior or senior standing. These permanent internship positions have been created to provide those UWM CEAS and MSOE students interested in a software engineering career a paid opportunity to develop their skills while still in school, bolster their resume, and identify potential full time employment. It is also intended to help MSI Data identify potential candidates for full time software engineering positions.
Web and Mobile App Development Experience at a Growing Software Firm
Internships at MSI Data, a mobile-focused enterprise software start-up, offer exposure to the latest web and cross-platform mobile application development technologies that MSI employs for its mobile field service and inspection apps for iOS®, Android® and Windows®.
UWM and MSOE's new software engineering internship partnerships with MSI Data will help to produce more college graduates who are job-ready in the field through industry experience and professional mentorship.
"MSOE is excited about our partnership with a growing local company like MSI Data. This is an opportunity for students in the software engineering field to gain exposure to real-world workplace experiences that complement theoretical knowledge learned in the classroom," said Mary Spencer, Director of Career Services at MSOE. "This symbiotic partnership will prove beneficial to both MSOE and MSI Data through the nurturance and education of the best and the brightest."
"We are incredibly excited about this partnership with MSI Data and believe it will be a win now and in the future," said Juli Pickering, Director of Career Services for the UWM College of Engineering & Applied Science. "Students will benefit by gaining practical experience in software engineering with a growing local company and MSI will have the opportunity to experience our student's eager, hardworking nature. This is also a win for the Greater Milwaukee area, as it will retain top talent in the area."
MSI Data will offer these dedicated UWM and MSOE internships for the first time beginning in the fall of 2013. Students selected for the initial term of the internship program will begin their work this fall. Those students who complete their degree program and internship requirements may be considered by MSI Data for employment in software development for open positions that are available following their graduation.
Software Engineering students that would like more information can learn more at http://www.msidata.com/developers, or may visit the MSI Data booth at each university's October Career Fair.
About MSI Data
MSI Data develops enterprise, scheduling and mobile software that helps companies improve the productivity of their field workforce. World class service organizations such as Time Warner, Bradley Corporation, Tax-Air and Heartland Computers rely on MSI Data's powerful suite of field workforce software to automate field service, inspections, site surveys, audits, reporting and other critical field-driven business processes. MSI Data replaces paper and disconnected spreadsheet-based business processes with highly efficient, end-to-end processes through the combination of mobile technology for field workers and ERP, CRM and accounting systems integration. Whether deployed in the cloud or on-premise, MSI field workforce software applications are easy to acquire, easy to deploy and deliver enterprises with rapid return on investment. To learn more, please visit http://www.msidata.com.
iOS® is a registered trademark of Apple. Android® is a registered trademark of Google. Windows® is a registered trademark of Microsoft.