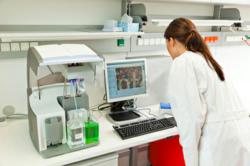 Therapists can choose software that offers basic features, such as better charting, or a complete system to manage all aspects of the practice.
Denville, NJ (PRWEB) July 08, 2013
Chhoda said, "There are many occupational therapy software programs available, but many are designed for general use and don't accurately reflect the needs and specialties of physical therapists. Before deciding on any EMR system, here are some tips and basic criteria that therapists should consider."

EMR for physical therapy. There are EMRs designed and developed for a physical therapy practice. It should integrate with normal office procedures and feature the usual forms and information specific to the profession. A one-size-fits-all approach shouldn't be adopted for an EMR.
Ease of use. The most sophisticated system available won't benefit the practice if it's difficult to understand and doesn't promote intuitive usage. The human/machine interface is a crucial factor when choosing a physical therapy management system and should be a primary concern.
Price. Electronic medical record system represents a significant investment and many require expensive ongoing monthly fees or long contracts. An alternative is In Touch EMR, released by Ritika Gulrajani, PT, DPT. The system is at no cost, and developed by a physical therapist who understands the unique needs of those in the profession.
Establishing requirements. Chhoda said that therapists should first determine what they want in a physical therapy software. What it needs to be accomplished. Therapists can choose software that offers basic features, such as better charting, or a complete system to manage all aspects of the practice. Chhoda said that the practitioner should choose a system that has the features they want and has room for growth.
Vendors, support and upgrades – The quality and reliability of the vendor is a key factor when selecting an EMR system. Make sure any system provides bug fixes, access to new features as they become available, and 24/7 technical support.
Choosing the best physical therapy EMR system can be a daunting prospect, but Chhoda's tips offer therapists with sound advice garnered through his extensive experience with electronic office systems. Making the transition to an EMR opens up enormous possibilities and provides therapists with an array of tools for better patient care, to boost reimbursements and market practices more efficiently.
Chhoda's office can be reached by phone at 201-535-4475. For more information, visit the website at http://www.emrnews.com.
About Nitin Chhoda
Nitin Chhoda PT, DPT is a licensed physical therapist, a certified strength and conditioning specialist and an entrepreneur. He is the author of "Physical Therapy Marketing For The New Economy" and "Marketing for Physical Therapy Clinics" and is a prolific speaker, writer and creator of products and systems to streamline medical billing and coding, electronic medical records, health care practice management and marketing to increase referrals. He has been featured in numerous industry magazines, major radio and broadcast media, and is the founder of Referral Ignition training systems and the annual Private Practice Summit. Chhoda speaks extensively throughout the U.S., Canada and Asia. He is also the creator of the Therapy Newsletter and Clinical Contact, both web-based services to help private practices improve communication with patients, delivery better quality of care and boost patient retention.