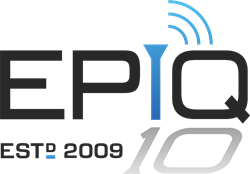 Ten years later, our customers consistently trust us with their mission and business critical needs.
SCHAUMBURG, Ill. (PRWEB) April 17, 2019
Epiq Solutions is celebrating its tenth year of delivering state-of-the-art software defined radio (SDR) and turnkey RF sensing solutions to a broad range of customers in defense, industrial, and commercial markets where size, weight and power (SWaP) are critical factors.
From the start, Epiq Solutions has focused on creating first-of-its-kind technology. The Sidekiq™ family of RF transceivers has formed the cornerstone of Epiq's product portfolio and has been utilized by hundreds of customers throughout the world to help solve their most challenging wireless problems. This includes options that integrate up to four high performance phase coherent RF transceivers on a single card (Sidekiq X4), as well as the world's smallest integrated RF transceiver + Linux computer (Sidekiq Z2) measuring just 30mm x 51mm.
More recently, Epiq Solutions has diversified its business by leveraging its flexible RF transceivers to develop turnkey RF sensing solutions to help improve the safety and security for its customers. The resulting products include Flying Fox™, a state-of-the-art wireless intrusion detection system (WIDS) capable of detecting, identifying, and locating wireless threats in secure work areas. The same core technology is being deployed by major railway providers in the U.S. to help ensure safe passage of their freight trains by detecting cell phone activity that may distract the driver of the locomotive. A robust and growing customer base relies on Epiq's advanced engineering expertise to power innovation for their critical applications.
"We started Epiq Solutions to tackle challenges where advanced RF solutions can help elevate the safety and security of our customers and our nation," notes John Orlando, CEO of Epiq Solutions. "Ten years later, our customers consistently trust us with their mission and business critical needs. Our products are responsible for securing the airwaves in sensitive work spaces, ensuring safe passage of the railways, providing flexible communications links for CubeSats in outer space, and so much more. I am thrilled with our team's accomplishments to date and look forward to tackling what lies ahead in the next ten years."
To celebrate this milestone year, Epiq Solutions has launched a new website with an updated look and navigation to help customers more easily locate the right solution for their needs, whether it be an RF card, platform, or turnkey solution. The company is also growing its team to help keep pace with the demand for its products and to continue to maintain its focus on best-in-class customer support. Additional products will be announced this year to further expand Epiq's portfolio of SDR solutions, focusing on high performance RF transceivers in both small form factor cards as well as ruggedized OpenVPX platforms, portable test and measurement for 2G/3G/4G/5G cellular and public safety radio, advanced 802.11 processing, and more. To see the new website, and keep up with new product news, visit: epiqsolutions.com or contact sales(at)epiqsolutions(dot)com.
About Epiq Solutions
Epiq Solutions is a company committed to developing state-of-the-art software defined radio (SDR) platforms, RF sensing products, and signal processing applications that push the limits of small form factor, integration and low power consumption. These products are used by customers around the world in government, military, and business sectors, for commercial, research and security/defense applications. These applications leverage decades of experience in the commercial wireless industry, enabling unique capabilities that support 2G/3G/4G cellular as well as other commercial wireless communications standards. For more information regarding Epiq Solutions' products and services, please visit epiqsolutions.com.