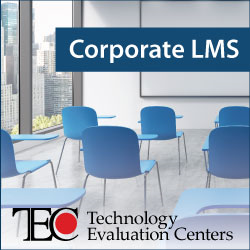 "This software evaluation center allows organizations to see which LMS software solutions can help them equip their employees with the sets they'll need to be productive." -- Raluca Druta, TEC Research Analyst
Montreal, Quebec (PRWEB) February 26, 2016
Technology Evaluation Centers (TEC) is pleased to announce the launch of its corporate LMS software evaluation center, where companies and organizations can compare corporate learning management systems (LMS) head-to-head based on particular needs.
A report from Georgetown University Center on Education and the Workforce indicates that by 2020 the U.S. economy will add 55 million jobs, of which 65 percent will require a post-secondary degree. This puts a spotlight on an organization's need to train, or retrain, their workforce as the working world becomes more about learning and innovation than traditional skills and knowledge.
TEC's new corporate LMS software evaluation center is an outgrowth of this trend, featuring solutions from top LMS software vendors such as SAP, Oracle, Cornerstone OnDemand, The KnowHow Hub, and ShareKnowledge. Visitors can compare these solutions side-by-side based on the high-level requirements they enter. This helps mitigate the risk of a misstep in the software evaluation and selection process, and allows organizations to narrow down their efforts for further evaluation, as they quickly develop a shortlist of promising software solutions.
"In the not-too-distant future," says TEC research analyst Raluca Druta, "more and more workers will require strong 'mental muscles'. This evaluation center allows organizations to see which LMS vendors can help them equip their employees with the skill sets they'll need to be productive."
For more information on TEC's software evaluation and selection services, contact +1 514-954-3665, ext. 404, or email selectionservices(at)technologyevaluation(dot)com.
About Technology Evaluation Centers (TEC)
Technology Evaluation Centers (TEC) is the world's leading provider of software selection resources, services, and research materials, helping organizations evaluate and select the best enterprise software for their needs. With its advanced decision-making process and software selection experts, TEC reduces the time, cost, and risk associated with enterprise software selection.
Over 3.5 million subscribers leverage TEC's extensive research and detailed information on more than 1,000 leading software solutions across all major application areas. TEC is recognized as an industry-leading software selection advisory firm offering resources and services both online and onsite. For more information, please visit http://www.technologyevaluation.com.