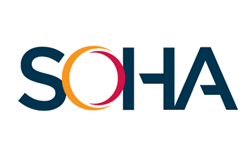 We have designed our webinars to provide our attendees with a deep understanding of Soha's solutions, the underlying technology and the feature options available to ensure enterprise-grade application security.
SUNNYVALE, CA (PRWEB) July 13, 2015
Soha Systems is hosting a complimentary Soha Technology Webinar Series exploring a number of security challenges that enterprises and SaaS providers face when moving to, or deploying apps, in the cloud. The twice-monthly webinars will focus on how Soha Cloud can provide a flexible approach to user access control and application availability, which will enable enterprises to adopt the cloud at a much faster pace without sacrificing security.
"As the cloud, mobility and a host of new applications converge, enterprises have expressed enormous interest in solutions that can deliver the security they need in this complex environment," said Rob Quiros, vice president of Marketing and Products at Soha Systems. "We have designed our webinars to provide our attendees with a deep understanding of Soha's solutions, the underlying technology and the feature options available to ensure enterprise-grade application security."
The series kicked off with the first webinar entitled "Securing Your Enterprise Applications with Soha Cloud" in late June. Upcoming webinars, which are led by Faraz Siddiqui, Soha's senior manager of Systems Engineering, include:

Integrating On-Premise Windows Active Directory with Your Cloud Applications – July 23 – Many existing corporate applications require on-premise Windows Active Directory for identity management and authentication. With the growing trend in migrating applications to the cloud, using and maintaining an on-premise Active Directory for user authentication becomes a broader challenge. For example, organizations use VPN tunnels across their public cloud and data center environments, which expose many intricacies, including network overlay complexity and routing configurations. In this webinar, you will learn how you can use Soha's easy-to-set up, no-VPN architecture to integrate your on-premise Active Directory with corporate applications hosted in multiple clouds.
Scaling out Your Web Applications with Soha Cloud – August 6 – Increased application demand coupled with the dynamic nature of the cloud often requires organizations to scale out their server infrastructure by adding more hardware. This increased capacity normally requires an elastic load balancer or application delivery controller (ADC) to distribute the load to the pool of available servers. Soha Systems offers an integrated load balancing solution to scale out the enterprise applications that function at the HTTP layer. In this webinar, learn how application and cloud administrators can leverage the Soha Cloud HTTP-based load balancing engine to both manage traffic flows based on internal application FQDN and to improve the performance, scalability and reliability.
Connect to Your SSH Shell in Any Browser – August 20 – Secure Shell (SSH) provides authentication through passwords and public key authentication to application servers. Accessing SSH invariably requires installation of PuTTY, or other client software on Windows platform, tablets or other end devices. To allow shell access, administrators normally have to whitelist the end-user IP addresses or open up inbound SSH (22) ports on the servers. In either case, the overall security risk is increased. In this webinar, learn how you can access the browser's SSH with an encrypted https URL without making any firewall or security group changes using Soha Cloud.
These live webinars are scheduled at 11 a.m. PT / 2 p.m. ET and will last approximately one hour, including time for an interactive discussion and question and answer session.
For more information about the Soha Technology Webinar Series or to register, visit soha.io/webinars.
About Soha Systems
Soha Systems ("Soha") are innovators in delivering cloud-based application security to enterprises and SaaS providers. The Company's solution, Soha Cloud, provides security, identity, access control, and a trusted path for companies to secure any application. Soha Cloud can be deployed as an application's first line of defense in minutes, instead of months, at a tenth of the cost of build-it-yourself solutions. The result is a secure application delivery model that enables a zero CapEx, low OpEx model for critical workloads deployed in public and private clouds. For more information, visit http://www.soha.io and join the conversation on Twitter @sohasystems.