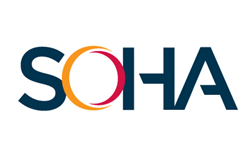 Sunnyvale, CA (PRWEB) August 31, 2015
Soha Systems, the innovator of Secure Application Delivery-as-a-Service, today announced it has joined the VMware Technology Alliance Partner (TAP) program. Members of the TAP program collaborate with VMware to deliver innovative solutions for virtualization and cloud computing. The diversity and depth of the TAP ecosystem provides customers with the flexibility to choose a partner with the right expertise to satisfy their unique needs.
"We welcome Soha Systems as a valued member of the VMware TAP program," said Howard Hall, senior director, Global Technology Partnering Organization, VMware. "This membership means customers can take full advantage of a streamlined virtualization and cloud infrastructure experience. VMware provides an online marketplace, VMware Solution Exchange (VSX), where customers can learn more about Soha Systems collaboration with VMware and our continued goal of developing breakthrough technologies that can transform business."
"Rapid cloud adoption necessitates that organizations find new ways to ensure robust security postures for their applications," said Haseeb Budhani, co-founder and chief executive officer, Soha Systems. "Joining the VMware TAP program enables us to help our mutual customers significantly improve their security footprint, leading them to further accelerate their productivity with anywhere, anytime secure application access."
The VSX is an online virtualization and cloud infrastructure marketplace that provides customers with a single point of entry to discover, evaluate, and rate business solutions.
Soha Systems product information, collateral and other assets are listed within the online VMware Solution Exchange at https://solutionexchange.vmware.com/store/companies/soha-systems.
With thousands of members worldwide, the VMware TAP program includes best-of-breed technology partners with the shared commitment to bring the best expertise and business solutions for each unique customer environment.
About Soha Systems
Soha Systems is the innovator of Secure Application Delivery-as-a-Service for enterprises and SaaS providers. Our service, Soha Cloud, creates an air gap between the user organization's infrastructure and the Internet, reducing the attack surface to zero and making applications invisible to the public. Through Soha Cloud, authenticated users are granted micro-granular access to specific applications. For more information, visit http://www.soha.io and join the conversation on Twitter @sohasystems.
# # #
Soha (™) Systems
VMware is a registered trademark of VMware, Inc. in the United States and other jurisdictions. The use of the word "partner" or "partnership" does not imply a legal partnership relationship between VMware and any other company.