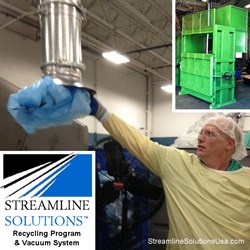 Our new recycling program enables healthcare and other laundry facilities to go green and make some green with what we believe is the best plastic rebate program in the industry.
Orlando, FL (PRWEB) September 18, 2013
Streamline Solutions LLC today announced the rollout of a new environmentally-friendly plastic bag recycling program with complementary vacuum system for their healthcare, hospitality and commercial laundry customers across the United States and Canada.
Recycling bags and other plastics that would otherwise be discarded means they get repurposed as raw materials for new products. This prevents unnecessary waste of limited natural resources, decreases global energy consumption and reduces air pollution from incineration. It also reduces water pollution from landfills by reducing the need for conventional waste disposal, and offers lower greenhouse gas emissions as compared to new plastic production. Recycling has been recognized as a rewarding practice for most of civilized history, with the Ancient Greeks known to have practiced it as long ago as 400BC [bit.ly/11H01eV]. This sets a prudent precedent for today's challenging economic and fragile ecological environment.
According to Ross Sanders, Vice President of Sales and co-owner of Streamline Solutions, "Our new recycling program enables healthcare and other laundry facilities to go green and make some green with what we believe is the best plastic rebate program in the industry. Soiled linen bags and for that matter plastic bags of all types, colors, sizes and styles can be recycled. A perfect complement to our Green Recycling Program is our new Soiled Linen Bag Vacuum System, which allows laundry operators to efficiently transport used bags directly to our specially-designed baler for pick-up and recycling into plastic pellets used to manufacture new plastic products. Working together, our recycling program and vacuum system save time and money for our customers as well as scarce resources for our ecosystem."
Another plus for Streamline Solutions Green Recycling Program participants is the associated "lost linen" return policy. All linen recovered in the recycling process is returned to the laundry operator, which Sanders estimates could easily save them thousands of dollars each year. A mobile-friendly HTML5 video of their post-pickup recycling process can be viewed or downloaded from SoiledLinenBags.com.
A principal application for recyclable plastic bags in healthcare, hospitality and other laundries is their use as liners for soiled linen hamper stands, and those are provided by Streamline Solutions as well. Meeting all applicable JCAHO (Joint Commission on Accreditation of Healthcare Organizations) standards and made from chrome plated steel, these hamper stands are 38 inches high with 3 inch glide casters and come with a metal lid that measures 18 inches by 19.5 inches. The white poly coated steel lid can be opened by a foot pedal for hands free use, and replacement bags or other supplies can be stored for access in a back pouch. An exclusive soiled linen hampers ownership program allows commercial laundries and others to own these durable hamper stands so long as they source their recyclable laundry bags from Streamline Solutions. This program gives commercial laundry facilities the opportunity to more easily monitor, control and lower their cost of operations.
About StreamlineSolutionsUsa.com a.k.a. SoiledLinenBags.com
Streamline Solutions has been providing hospitals, healthcare facilities and other commercial laundries throughout the United States and Canada with recyclable soiled linen bags, laundry hamper stands, disposable plastic waste can liners, cart covers and wraps, infectious waste bags, medical supplies and a wide range of quality, cost-effective product solutions since 1999. Through custom printing, soiled linen and hamper stand, plastic recycling and facility needs analysis programs they create win/win partnerships with a growing base of satisfied customers from coast to coast. To learn more logon to their mobile-friendly and fully responsive web design SoiledLinenBags.com. For questions, quotes or more information about our Green Recycling Program call Streamline Solutions at 866-244-7700 or 561-350-4995.