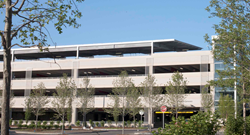 "Solaire has built a successful, replicable process to design and install these systems with strong economic returns."
Boston, MA (PRWEB) September 11, 2015
Solaire Generation, the nationally recognized market leader for innovative and cost-competitive solar parking solutions, and American Capital Energy (ACE) recently completed solar installations on top of parking garages for Oracle Corporation and Plainridge Park Casino. For both Massachusetts projects, Solaire designed, fabricated, and installed its proprietary canopy designs.
"These systems are indicative of the continued growth in the market for solar canopies on multi-level parking garages," said Laurence Mackler, CEO of Solaire.
"We're very excited to be part of both of these progressive projects and we expect to see many more opportunities like these in Massachusetts and across the country. While there are considerable challenges to building on the tops of garages, Solaire has built a successful, replicable process to design and install these systems with strong economic returns."
Oracle, the world's largest enterprise software company, selected Solaire's Garage Long Span™ to crown its new parking facility at the company's office park in Burlington, MA. The design features Solaire's proprietary water management system which keeps drivers and cars sheltered from storm water as it is directed into gutters and downspouts. The canopies also incorporate Solaire's snow guards as an enhanced safety feature to help prevent large amounts of snow and ice from sliding off onto the garage deck below.
The Oracle canopies support a 600 kW DC PV system that will generate about 720,000 kilowatt hours in the first year of operation, enough to power nearly 100 homes annually. ACE and Solaire met an aggressive schedule to have the canopy system fully erected in four weeks.
The Plainridge Park Casino canopy supports a 150 kW system that will hopefully be the first phase of a larger garage top solar system. The installation was completed on a similarly tight schedule in time for the casino's grand opening at the end of June, 2015. Operated by Penn Gaming, it is the only gaming casino and live harness-racing track in Massachusetts, and it will benefit from over 170,000 kilowatt hours annual production from the solar system.
Built on the top of the casino's new parking garage, the Solaire Garage Long Span™ design features the same snow guards used at Oracle's Burlington campus.
About Solaire Generation:
Solaire Generation is the market leader in the design, fabrication, and installation of innovative and economical carport solutions for ground and multi-level parking facilities. Headquartered in New York City and with offices in San Diego and Boston, Solaire has installed more than 60 MW of solar parking canopies across the country. Solaire's proprietary canopy designs can be found on the campuses of Fortune 100 companies, US military bases, schools, universities and other municipal facilities. Solaire's services include the financing and development of solar projects, as well as full installation services.
Company Website: http://www.solairegeneration.com
Media Contact: Dylan Hammer, Solaire Generation, 646-738-6968 dhammer(at)solairegeneration(dot)com