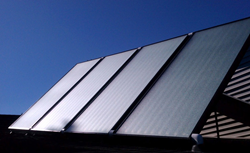 Pay yourself first and not the utility company. These systems are affordable. Use your savings each month to pay your loan or lease payment. You will see savings right away
Richfield, WI (PRWEB) September 03, 2014
Integrated Building Systems, a solar power installation company based in Wisconsin, is pleased to announce that it can now provide equipment leasing for solar PV and natural gas co-generation systems with no money down. As a company spokesperson noted, people who will make the switch to one of these energy systems will see a big reduction in their monthly utility bill.
"We guarantee immediate savings within the first year," the spokesperson said, adding that making the switch to solar power is a no-lose situation, because a solar system is not affected by increases from a utility company.
"Once you have any type of solar system installed, any increase from your utility company will only mean greater savings for you. Also, if you pay federal income taxes you can benefit from an Income Tax Credit of 30 percent of the installed price of the system. In addition, you may receive additional benefits from your state or local utility."
While these programs will reduce a building's overall system cost, they are not available to those who do nothing. By making the switch to solar power or Natural Gas Co-Generators people can break free from the utility company and allow them to be free of future increases.
"Tell them you have had enough and the time is right to put a stop to the never ending energy bill," the spokesperson noted, adding that many businesses have seen exceptionally high increases in their utility bills.
"It is my fear that it is only a matter of time when the utilities realize they cannot squeeze businesses anymore that consume large amount of energy. Once they come to this conclusion, the only other place the utility can go for money is the residential consumers."
In order to become energy independent and get control of their energy use and generate as much of it as they can, Integrated Building Systems strongly recommends that people look into alternative energy plans like their no-money down solar equipment, and co generation leasing programs.
"Pay yourself first and not the utility company. These systems are affordable. Use your savings each month to pay your loan or lease payment. You will see savings right away," the spokesperson said.
"The ROI seems to be of so much concern but with any system there will at least be one. There will never be a ROI on the money that is paid to the utility company. With continual rate increases from the utility companies an energy system installed by Integrated Building Systems can provide a very favorable ROI."
About Integrated Building Systems:
Since 1994, Integrated Building Systems' CEO Darren Kalal has been a master electrician with a passion for cutting edge technology. Unlike other systems integration companies in Wisconsin, Integrated Building Systems has become an industry leader by consistently supplying the greater Milwaukee area with cutting edge technology installation and integration services which can be customized to meet any sized budget. For more information, please visit http://www.ibswi.com/