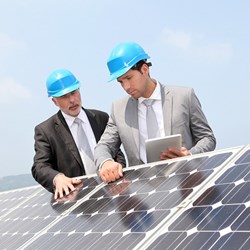 Supreme Electric and Solar offers the best solar panel installation.
Plano, TX (PRWEB) January 03, 2014
Supreme Electric and Solar is a green electrical company with licensed electricians. In that, they can be contacted by calling 469-554-8658 or by visiting the website at http://www.supremeelectricandsolar.com. The company now offers affordable solar panel sales, installation, and maintenance services as part of a new expansion project to cover the increasing demand for solar panels and green living in Richardson, Allen, Plano, The Colony, Frisco, McKinney, Sachse, Wylie, Lucas, Princeton, Prosper, Fairview, Murphy, Parker, and Little Elm, Texas.
People living in Texas qualify for a federal rebate of 30% on new solar panel installations. The big Texas skies and long sunny days make Dallas a great place for harnessing solar energy for efficient power consumption and energy use. Green electricians walk customers through the entire process from start to finish on every solar panel project whether it be for a residential home or commercial business.
Proper specifications for all components, inverters, and solar panels are verified as part of a complete structural analysis of any existing home or building. All possibilities and options are carefully calculated and weighed to achieve an optimum solar panel installation producing the maximum amount of solar energy.
Any home or business with solar panels collecting excess power can typically sell it back to certain electric providers to be consumed by neighboring homes and businesses. Obtaining and installing solar panels to take advantage of solar power in Texas is easy when using the experts at Supreme Electric & Solar. These experts are friendly and very experienced concerning all types of solar panels to power homes & businesses with the proper amount of electricity.
Deciding to "Go Green" by investing in solar panels to take advantage of solar power is a terrific choice for the environment, future, and economy. Having renewable energy increases property value and saves money over time. The return on investment year one is seven percent. Anyone wanting more information about renewable power can call 469-554-8658 or visit the website at http://www.supremeelectricandsolar.com.