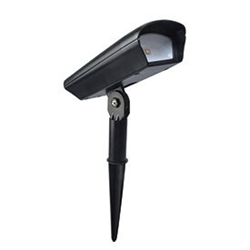 Issaquah, WA (PRWEB) July 21, 2014
Customers of TheHardwareCity.com can now find a high quality landscape floodlight by Coleman Cable in the store's extensive online catalog. The landscaping light is in stock and available for 54% below retail price. Customers enjoy free shipping while purchasing a quality lighting product.
Coleman Cable's 20 lumen floodlight with 120-degree beam angle will automatically illuminate when it becomes dark outside, creating a landscape solution that functions on its own. It is solar powered and incorporates an AA lithium rechargeable battery, which can fuel the light for up to 7 hours. The light offers consumers an easy way to add lighting to their yard without the worry of increased electricity bills and TheHardwareCity.com provides convenience in purchasing the lighting fixtures.
Made with a high quality warm white LED, the outdoor fixture adds a nice touch to any scenery without the need to replace light bulbs continuously. The fixture will remain cool to the touch, offering an easy and safe solution. It can be used in conjunction with lawn design to highlight architectural and garden features. Homeowners may also use the new light to create path lighting while enhancing safety and security for the home.
The lights' sleek and stylish design provides contemporary lighting features to any lawn. It is quick and easy to install and can be set up virtually anywhere without the need of electrical access. Constructed with durable plastic construction, the fixture can withstand any weather condition.
About TheHardwareCity.com:
TheHardwareCity.com is one of the largest online home improvement stores. The store is known for unbeatable prices and service. Tool and product experts are available for live online chat every weekday to answer questions about the merchandise available in every department of the online home improvement store including electrical, plumbing, building supplies, home hardware, lawn and garden, power tools, and more. Consumers can enjoy an easy shopping experience from their home or office and have items shipped to them for free.