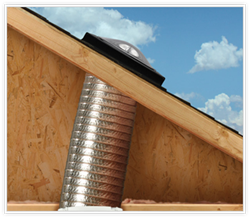 Hail resistant polycarbonate roof lens and dual pane internal design provide maximum energy efficiency
Farmers Branch, TX (PRWEB) November 29, 2014
TheHardwareCity.com introduces the Chroma Skylight Tube with a square dome by US Sunlight. It is a revolutionary solution to adding natural light to any interior space in a home with just a small opening on the roof. The skylight tube is now available on the hardware store's online site for 61% lower than retail price.
Homeowners can save energy by utilizing the very efficient natural lighting product, which is new at TheHardwareCity.com. Natural light has been proven to enhance an individual's health and mood. It may also increase concentration and energy. The beautiful pure natural light reflected from US Sunlight's Chroma Skylight Tube can heighten the appeal of any room in a house.
The lighting product's 14" square dome with a low profile provides a sleek design compared to the traditional round bubble tube lights found in most skylight tubes. The lens is double pane and made with polycarbonate, which is hail resistant. It is 250 times stronger than acrylic lenses, which most competitors use. Since the roof dome is not very large, there will be a smaller puncture in the roof, which prevents leaking compared to traditional skylights. Installation can easily avoid most structural framing and mechanical ducts. The tube length can be as long as 8 feet, allowing it to maneuver around equipment and structural supports. The manufacturer suggests that the tube can be installed by an installation professional or by a do-it-yourselfer.
The Chroma Skylight Tube has a triple layer ceiling lens allowing for high insulation value and decreasing the chance of solar heat gain. The ceiling lens has a 14" diameter and is trimmed with white ABS plastic, which is paintable.
About TheHardwareCity.com:
TheHardwareCity.com was founded in 2007 and has continually expanded its store to include the most sought-out home improvement products. Priding itself in offering top customer service and low prices, the online hardware store offers live chat every weekday for any customer inquiries concerning supplies. Customers may find a large selection of products to be delivered right to their door from the store's numerous departments including heating supplies and cooling, paint and paint sundries, electrical, building supplies, plumbing, bath accessories, and more. Visit the website at http://www.thehardwarecity.com/.