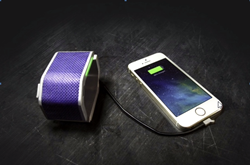 SolarHug Bracelet harnesses the power of the sun to make smartphone charging super easy.
Slovakia (PRWEB) December 22, 2014
Pavol Bujna was a student of electrical engineering when he left for Reading in the UK in search of fortune. Pavol started to earn his living by working as an apprentice in a workshop at nights but he spent his days in developing a futuristic bracelet-shaped prototype of solar charger. The young inventor's deep research and sleepless nights did not go in vain as within a year, he was able to launch SolarHug, which looks and weighs pretty much like a bracelet but is in fact a solar charger in itself. The bracelet was recently launched under active patronage of hundreds of buyers who pre-ordered the item through the official site of SolarHug. Pavol Bujna, and his partner, Dusan Zelenik, have finally made it official that all pre-orders will be supplied on or before April 2015.
Pavol, the young entrepreneur and innovator, and his team are planning to promote SolarHug at a global scale starting this December. According to the team, April 2015 will mark the beginning of a new era as SolarHug has already met with modest acclaim from all sections of smartphone users. SolarHug, as they described it, is a portable charging solution that has been modeled after a standard bracelet so that users can easily wear the charger and go out in the sun. The charger then gathers the necessary photoenergy from direct sunlight and converts it into electricity that makes charging mobile phones on the go super easy. The team also started seeking crowdfunding for the innovative product through Kickstarter (campaign started on December 17th this year).
"It is quite frustrating to see smartphone batteries going to sleep too early. Unfortunately, smartphone devices are so replete with advanced features and battery power consuming apps that they cannot stay awake for long. While working as a warehouse worker in England, I got the rare chance to hear inspirational words of John Hall (Linux), Russell Buckley (Techstars, Mentor) and the likes at a conference. I decided to devise something that would not just be useful, but eco-friendly at the same time," Pavol Bujna, the co-owner and inventor of SolarHug told the press backstage at a tech fair recently held here in Slovakia.
About the Company
SolarHug is a bracelet-shaped solar charger that can now be pre-ordered through the official site, http://www.solarhug.com.
For more info, contact Karina Zustakova, Marketing Director, SolarHug
Mail to info(at)boomex-marketing(dot)com or call 00421918887657
Address of the Company: Karpatské Námestie, 10, 831 06, Bratislava, Slovakia