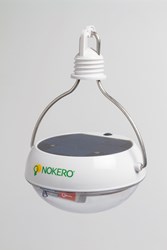 "Every one of our lights and chargers is designed to improve quality of life for the world's developing regions, and being a part of this solar-powered revolution has been rewarding in all senses of the word."
Denver, Colo. (PRWEB) October 15, 2013
Oct. 15, 2013 – Today, Nokero International, Ltd. announced the release of one of the most technologically advanced solar light, phone charger combinations on the market.
The Nokero N222 is a leap forward in design and function for the company, which has been at the forefront of small-scale solar products since releasing the world's first Solar Light Bulb in 2010.
"This product has been on the drawing board since I first dreamed up the solar light bulb concept a few years ago," founder and CEO Steve Katsaros said. "But it took a while for technology to catch up to where we could offer this much light, and this much cell-phone charging power, all in one package, for such a competitive price."
The N222 (available at http://www.nokero.com) provides about six hours of bright light (50 lumens) per day and can charge most cell phones or battery-powered devices via its USB charging port. It also incorporates a variety of features, including varying light intensity, interchangeable color lenses, grid-charging and modular base stand.
"We've had an outpouring of support from our customers since the day we started," Katsaros said. "We wanted to give them one product that would have everything they've asked of us: cell-phone charging, very bright lighting, multiple modes of charging, multiple colors … it's really the complete all-in-one product in terms of what micro-solar can do right now."
Nokero built its reputation on durability, which is of utmost importance for a product that must undergo the rigors of outdoor charging. The Nokero N222 combined this durability with highly efficient solar panels, neatly tucked inside its patented and familiar light-bulb shape.
Small scale solar has made a tremendous impact in the developing world, where about a quarter of the world's population lives without electricity. Nokero's tough, affordable solar lights and chargers have been paramount in the global effort to eliminate energy poverty worldwide.
"This is where doing good business and just plain doing good converge." Katsaros said. "Every one of our lights and chargers is designed to improve quality of life for the world's developing regions, and being a part of this solar-powered revolution has been rewarding in all senses of the word."
"Even among the world's most impoverished, there is a need for greater light and charging ability, even if it costs a little more," Katsaros said. "And in developed countries, there is a desire to minimize electrical use, and use solar as much as possible – but there is also a high demand for light intensity and quality.
The N222, with its multitude of features, successfully converges the needs of both developed and developing markets. From shopkeepers and merchants in Kenya, to homeowners in Europe and America, the N222 is Nokero's most advanced lighting-charging solution yet.
The N222 launch is being paired with the release of the ultra-affordable N180-Start, which will provide the world's most impoverished people with a truly affordable alternative to burning kerosene. Learn more about this affordable, yet powerful lighting option at http://www.nokero.com.
About Nokero
Nokero (short for "No Kerosene") designs, manufactures and collectively distributes safe, affordable, and environmentally-friendly solar based technologies. Our solar lights and solar battery chargers are high-quality and low-cost, eliminating the need for harmful and polluting fuels around the world.
Nokero N222 product specifications

Operating Modes: High/Low/Flash
Brightness: 50 lumens (High/Flashing), 25 lumens (Low)
Run Time*: 6 hours (High), 15 hours (Low)
USB Output: 5 volts @ 0.3 amps
Grid Charging Capable - accepts standard USB and Nokia-style charger input (charger not included)
Heavy-Duty Weather-Proofing (when dome is properly closed)
Number of LEDs: One (1)
Battery Type: long-life, high-temperature LiFePO4
Battery Capacity (max): 1400 mAh
Battery Life (75% Remaining Capacity): 5 years, if used daily
Housing material: ABS
Globe plastic: Polycarbonate
Hangar material: Stainless steel
*Daily Run-Time: Only applies with bright, direct exposure to the sun. May be longer or shorter under various conditions.