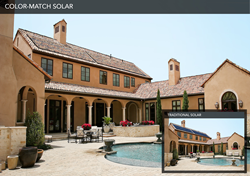 The moment we admit that design matters is the moment that clean energy can go from producing 1% of our energy needs to 100% in our lifetime.
Somerville, MA (PRWEB) November 19, 2015
Sistine Solar, Inc. will receive a $1M cooperative award from the U.S. Department of Energy SunShot Initiative to test, certify, and commercialize its patent-pending SolarSkin technology. The company's mission is to use design to accelerate the mass adoption of solar energy.
Fewer than 1% of U.S. households have solar panels installed on their roof. While that number is growing fast, the utilitarian look and feel of solar is holding back its true mass market potential. To accelerate solar's adoption, Sistine Solar has created SolarSkin, a customizable, graphic layer within a solar panel. This graphic layer can display any image, design, or pattern – for example, a pattern of a red Spanish tile roof – thereby transforming a traditional solar installation from one that is strictly functional to one that embraces form as well as function.
"We strongly believe in the transformative power of design," commented Ido Salama, co-founder and Head of Sales. "The moment we admit that design matters is the moment that clean energy can go from producing 1% of our energy needs to 100% in our lifetime. And the proof is there - when we showed our SolarSkin to homeowners in person, 98% of them, including many who had refused solar in the past, preferred it to a traditional panel."
Promising technologies such as SolarSkin are vetted through a rigorous process, which includes diligence by solar industry experts, U.S. Energy Department officials, and venture capitalists, and only those with the strongest promise of commercial success are selected to receive a SunShot award. This SunShot award will provide Sistine Solar with the necessary resources to develop a fully tested, verified and certified product that the company can begin marketing and selling to homeowners and homebuilders.
"We are excited to work closely with some of the most talented researchers that are part of the national energy labs and will benefit tremendously from having access to the world's most sophisticated accelerated testing equipment and facilities," said Senthil Balasubramanian, co-founder and Head of Product. "The testing will directly help us fulfill the strong demand we are receiving from many homeowners and homebuilders. At the end of this award period, SolarSkin will be 100% vetted and ready for purchase."
With the backing and resources provided by the U.S. Energy Department, Sistine Solar will complete validating the long-term performance and durability of SolarSkin, providing assurance to homeowners that Sistine Solar panels have the potential to provide peak power and look great even after multiple years of use.
About DOE SunShot
The U.S. Department of Energy SunShot Initiative is a collaborative national effort that aggressively drives innovation to make solar energy fully cost-competitive with traditional energy sources before the end of the decade. Through SunShot, the Energy Department supports efforts by private companies, universities, and national laboratories to drive down the cost of solar electricity to $0.06 per kilowatt-hour. Learn more at energy.gov/sunshot.
About Sistine Solar
Sistine Solar brings a radically new design touch to the world of solar. Combining techniques from solar photovoltaics, color science, and cognitive sciences, the company has developed SolarSkin, a patent-pending technology that can create solar panels with any aesthetic – any color, design, or pattern. With SolarSkin, homeowners can enjoy high-efficiency panels that blend in harmoniously with their rooftops. Founded at MIT, the company is based in MA, at Greentown Labs, and in NY, at NYCACRE's Urban Future Lab. Sistine Solar's mission is to accelerate the adoption of solar through design. Homeowners interested in joining the waitlist can sign up here: http://www.sistinesolar.com/residential.html.