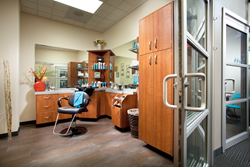 'I was ready for more freedom, ready to be the owner of my own salon business, ready to discover myself, and ready to define who I am in this industry.' -Alyssa Manning, Metric Hair Studio
Denver, CO (PRWEB) July 02, 2014
This July marks the 10-year anniversary for Sola Salon Studios, the largest and fastest growing salon suites brand in the nation. Sola will celebrate the opening of its 200th location this summer, providing nearly 4,000 salon professionals with premium, fully equipped salon spaces in which they own and operate their individual boutique salons. The innovative salon concept empowers experienced hairdressers, skincare professionals, nail technicians, massage therapists and other like-minded salon professionals to quickly and easily elevate their careers and become owners of their own salon.
Sola locations are custom designed with fixtures of the finest quality to attract accomplished salon professionals ready to obtain salon ownership. Throughout the years, Sola has provided high-end studio space to thousands of entrepreneurs. Sola's visionary model has inspired salon professionals nationwide to take the next step in their career. Sola offers the freedom and benefits of salon ownership without many of the risks associated with owning a traditional salon.
"Salon professionals come to Sola to escape salon politics and experience a new sense of freedom. Sola stylists can customize their studio, create their own schedule, set their own prices, and sell retail to create a larger profit margin. Many Sola professionals are former traditional-style salon owners who were looking to simplify business needs and take their career to the next level," said Matt Briger, CEO of Sola Salon Studios.
Sola Salon Studios provides a turnkey environment for a variety of established professionals and entrepreneurs. Studio spaces are equipped with:

Custom cabinetry with ample storage and retail shelving
Private spaces with oversized sliding/locking doors and floor-to-ceiling walls
High quality styling chairs and shampoo bowls to make clients comfortable
Individual ventilation in each studio to minimize odors and noise
Full spectrum lighting to emulate natural daylight
Instant, abundant hot water supply so no more waiting for hot water
Utilities and Wi-Fi all included
Sola locations are now in 36 states, with plans for continued development nationwide. Sola franchisees undergo a thorough training process to ensure that everything from construction to marketing to customer service are consistent across the Sola brand. "We are proud that occupancy continues to increase throughout our locations as we introduce innovative marketing tactics and strengthen our partnerships in the salon industry," said Jennie Wolff, Marketing Director of Sola Salon Studios.
For more information, please visit http://www.solasalonstudios.com.