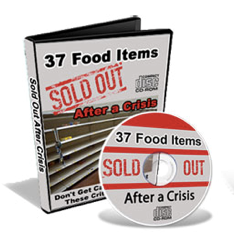 Las Vegas, NV (PRWEB) September 07, 2013
Sold Out After Crisis, a guide and training program by Damian Campbell that teaches people the importance of preparing for any type of disaster and is specifically designed to help people stock up on 37 essential items has caught the attention of Shane Michaels, prompting a detailed and updated review.
"37 Food Items Sold Out After Crisis is something that is designed to educate people on what they should be doing to prepare for some type of impending disaster or collapse. While many people believe that there will be some type of economic collapse causing shortages in the food supply," reports Michaels. Campbell says "it doesn't matter if people believe a collapse is coming or not these 37 food items are things that anyone should have in case of a natural disaster or emergency."
After the Sold Out After Crisis review, Michaels shows that Campbell teaches people the essential items that they need to have stocked in their home and how to secure them properly, how to lock down their supplies and how to stay under the radar by buying these items before they are on the radar of others. This is just a small glimpse of what Campbell is offering. He is even going so far that he is offering a 60 day money back guarantee.
"Campbell realizes that it may be difficult for everyone to prepare based on their budgets. He didn't want this to be a limiting factor so he has designed his guide so people where able to get the top 3 crucial items even if they are just barely making ends meet. He also discussed the top items that are just as good as name brand but available at a fraction of the cost and a that's just two of the things he shares."
According to Michaels, "a lot of people don't consider themselves people that prepare for some collapse or disaster, but having these 37 items around isn't very difficult. If anything following Campbell's advice can give people some peace of mind. I know it has for me."
Those wishing to purchase Sold Out After Crisis, or for more information, click here.