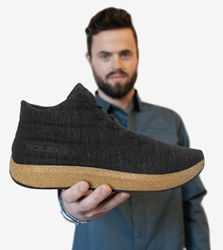 "there is an increased use of presale models across various industries with the proliferation of crowdfunding sites further normalizing this practice. Linking consumer demand to production as directly as possible is always going to make sense. So, with Made for You, we are fully embracing this model
VANCOUVER, British Columbia (PRWEB) October 06, 2021
Canadian footwear brand SOLE™ unveils new Made for You production model alongside new material innovations to reduce carbon footprint while increasing customer satisfaction and operational efficiencies.
Founder and CEO, Mike Baker shared his thoughts on the new initiative stating that, "there is an increased use of presale models across various industries with the proliferation of crowdfunding sites further normalizing this practice. Linking consumer demand to production as directly as possible is always going to make sense. So, with Made for You, we are fully embracing this model to ensure we are making exactly what our customers want".
The Made for You platform allows SOLE customers to preorder products from upcoming production orders. For the consumer, this means first access to products before they reach production, including the opportunity to reserve their size in limited edition launches before they are released to the wider public. This early access also comes with a substantial discount. With this model, even if a product is currently out of stock at the warehouse, it will never be unavailable as customers will have the ability to preorder the item on the next production run, while receiving a discount.
On the operational side, Made for You will allow SOLE to more accurately forecast demand, ultimately avoiding deadstock and resulting waste from an overproduction of sizes and colors that would have otherwise been manufactured in a typical production run model. "Forecasting which styles and colors of footwear will be popular for any given season is challenging. This can lead to poor returns on production investments, stale broken size run inventory, and lots of wasted warehouse space. The Made for You model will help this process immensely. Building a production run around real orders helps us pivot or cancel unpopular products before we make those production investments. This helps keep our inventory flow lean to hopefully reduce warehousing needs by 20%. Ultimately it ensures the products we are making have real demand without the tricky guess work" shared Andrew Yule, Director of Supply Chain at SOLE.
Less waste is great for business, but even better for the planet. The footwear industry shows no signs of slowing growth. With the bulk of footwear production using petroleum-based plastics, the global environmental impact is enormous, making up 1.4% of all greenhouse gas emissions annually according to a comprehensive 2018 study. In comparison, global air travel accounts for around 2.5% of all emissions each year... The footwear industry can be a dirty business.
Shifts in the way we both produce and consume products are needed to address the challenges regarding the sustainability of the footwear industry. Fortunately there are numerous angles to approach the challenges from and SOLE is attempting to take a holistic approach to the problem. Solutions will need to come from both the supply and demand side of the equation, this is where the Made for You model fits in, as well as a circular takeback program that is in the works.
SOLE is launching Made for You with the debut of the limited edition Jasper Chukka—made in collaboration with responsible apparel brand United By Blue—which is natural, recycled and ethical from tongue to tread. The Jasper Chukka is the first in a series of upcoming products to boast the ReCORK™ Recycled Cork midsole, a revolutionary alternative to petroleum-derived foams. This midsole is the centerpiece of a shoe that makes zero compromise on performance, durability, or comfort while keeping sustainability first, an important company ethos for SOLE. After being crowdfunded on Kickstarter in 84 minutes, 30% of these limited edition shoes have already been sold.