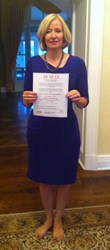 Kelowna, British Columbia (PRWEB) October 05, 2013
Soles4Souls is in the shoe business, just not in the way one might expect. Since 2005, Soles4Souls has given away over 19 million pairs of new and gently worn shoes, to those in need around the world. The upcoming #Barefoot4Them campaign is all about raising awareness of the 300 MILLION children in the world who do not have shoes.
Jim Belshaw, Chair of Soles4Souls Canada hopes the cause will go viral across Canada like it has with our American friends. Belshaw explains, "The idea is a simple one; register on http://www.barefoot4them.org, print off your card showing the person you're going barefoot for and ask someone to snap a picture of your shoeless self holding the card. Upload the picture to your Twitter, Facebook, or Instagram account and tag the photo with "#barefoot4them". Then a US running shoe company, KindRunner, donates $1 for every hash-tagged photo found on social media websites. For every dollar raised we can deliver 1 pair of shoes!"
Canada's First Lady, Laureen Harper, has pledged her support and believes Soles4Souls is a step in the right direction. "The more you learn about it, the more you like it", she states.
Belshaw agrees, "I have experienced first hand in Haiti how a small gift like a pair of gently used shoes can change the world for that child. Others live in countries that will not allow children to attend school with out them."
On, October 10th, Soles4Souls is holding a combined public awareness/fundraising event in Canada, the US, and Australia. Canadians can get involved by going to http://www.barefoot4them.org or by visiting http://www.soles4soulscanada.com to find a drop depot near them to donate shoes.
"We are very much blessed because of this day of Barefoot4Them. Thank you so much. I really can't tell how happy we are for you and whenever we wear the shoes you sent to us we always get a big smile." –Samuel, Peace Island, Uganda
For more information, please contact:
Jim Belshaw
Soles4Souls Canada
250-763-5696
soles4soulscanada@gmail.com
http://www.soles4soulscanada.com/