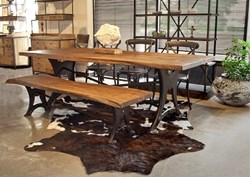 Austin, TX (PRWEB) September 27, 2013
Home Trends and Design based out of Austin, TX overcame flooded showrooms, sleepless nights, and desert heat on the way to its most successful Las Vegas Furniture show yet.
Two days before the show began, a major water pipe ruptured flooding the showroom with over an inch of water. Discovered early the following morning, the Home Trends and Design team along with building management performed the unimaginable and had the showroom ready for opening day. Hank Cravey, President, summed up the experience by saying, "Our team really came together to clean and re-merchandise the showroom in less than 36 hours. It's a great example of the type of company we have here in Austin. That same team work and drive can be seen in the quality of product we produce and the service we provide our customers." Cravey also noted the quality and style of the London Loft, Vail, and Organic Forge Collections were huge drivers for the show's success.
Home Trends and Design's summer success is not based on shows alone. Its continued commitment to maintaining stock levels so retailers experience frequent turns on their sales floors sets it apart from other manufacturers in the industry. Cravey sites shipments of the highly successful Grosvenor Collection club chairs arriving in quantity and ready to ship as an example of the company's commitment to their customer's success.
To view the Grosvenor chairs, please visit:http://www.htddirect.com/newchairs/.
About the company:
Home Trends & Design is one of the Founding Members of the Sustainable Furnishings Council, a group of manufacturers that promotes eco-friendly practices. Their desire to make eco-friendly products leads them to work primarily with Mango and Acacia trees for their solid wood furniture, as well as reclaimed wood from other sources. Not only does their choice of materials lead to beautiful and long-lasting furniture, meaning it won't have to be replaced as often, but it also reduces the carbon footprint involved in their manufacturing. HTD has over 17 lines of living room furniture, 20 collections of dining room furniture and much more. Register online to see their full product line. To learn more please visit the company website.