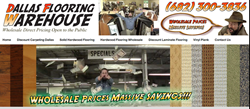 Dallas, TX (PRWEB) February 28, 2014
Dallas Flooring Warehouse is unveiling new low pricing on custom made solid hardwood flooring. This custom installed and finished red Oak solid hardwood flooring is available in both smooth and hand scraped finishes. The complete turnkey installation includes a three-quarter inch thick solid hardwood floor made of red oak, the 5/8" thick plywood subfloor, felt, plastic and all materials. The solid wood floor is then finished with custom stain and three coats of polyurethane. The smooth finish option is $6.99 per square foot and a hand scraped finish is available for $7.49 per square foot.
"Listen folks, it doesn't get any better than this. Were talking about solid hardwood flooring that will last for the life of your building. Beautiful red Oak solid hardwood floors add beauty, durability and value to your home. Best of all we allow you to pick the color will custom make sustained for you to match your taste then finish it off with three coats of polyurethane for lasting protective coat. This is a beautiful floor that you will love and cherish for many years. Come on down to Dallas Flooring Warehouse and get the best flooring has to offer. Were located at 8717 Directors Role in Dallas 75247. Give us a call at 214-850-4373 and we'll see you down at the warehouse!" says Johnny Carpet, spokesman for Dallas Flooring Warehouse.
Dallas Flooring Warehouse is a wholesale carpet, tile, laminate and hardwood flooring Dallas superstore that specializes in wholesale direct pricing to homeowners, contractors and builders alike across the Dallas Fort Worth metroplex. Their address is Dallas Flooring Warehouse 8717 Directors Row Dallas, TX 75247. Their Dallas wholesale flooring hotline is (214) 850-4373. For more information discounted flooring in Dallas, Fort Worth or anywhere in the DFW metroplex are visit dallasflooringwarehouse.com.