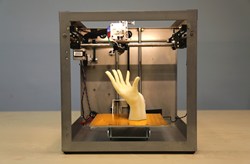 Solidoodle's factory lead times ... have dropped to less than a week.
Brooklyn, NY (PRWEB) July 26, 2013
Solidoodle, the value-leader in desktop 3D printers, is making great strides to enhance its consumer experience with improved product design, increased support, and faster shipping.
Most notable, Solidoodle's factory lead times for its built-to-order 3D printers have dropped to less than a week.
"I'm extremely proud of our Brooklyn factory," says Solidoodle CEO Sam Cervantes. "Being able to take an order, make a 3D printer, and have it en route to a customer in as little as a few days is ground-breaking, especially considering some of our earliest customers were willing to wait as long as four months for their printers to ship. The fact that sales kept rising at the same time makes it just that much more impressive."
Solidoodle puts a strong focus on providing customers with quality products and service at an affordable price. Improvements this year include stronger, sleeker aluminum platforms in place of wooden parts; a higher-performance motherboard design; and one-click software installer—all making for a better user experience. The company has also beefed up customer support and community engagement with improved tutorials, additional staff, and projects in the works (to be announced) aimed to engage the 3D printing and larger maker community.
About Solidoodle
Solidoodle, founded in 2011 by aeronautical engineer and 3D printing industry-veteran Sam Cervantes, builds the most affordable desktop 3D printers on the market. Built in Brooklyn, New York, more than 5,000 Solidoodle 3D printers have sold to customers all around the world. For more information about Solidoodle, visit http://www.solidoodle.com.