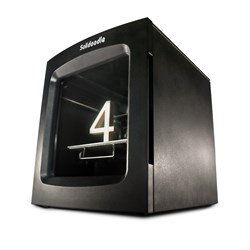 Brooklyn, NY (PRWEB) February 12, 2014
Solidoodle will exhibit this week at New York's first 3D Printshow, open to the public February 13th through the 15th at the Metropolitan Pavilion at 125 W. 18th Street in New York City. The Brooklyn-based manufacturer of desktop 3D printers will showcase its most consumer-friendly 3D printer to date, the Solidoodle 4, at booth A36 as the highly publicized event makes its way to the United States after staging several sold-out events in London and Paris. Solidoodle staff will be on hand with live 3D printing demonstrations, using printed pieces for a creative multi-part project that will grow and change over the course of the show.
"3D Printshow has done some great work at its Paris and London shows to bring attention to how 3D printing is being used today, especially in fashion and design. We're excited to showcase Solidoodle 3D printers at 3D Printshow's first US event and inform visitors on how our products make it easy to bring this exciting technology into their homes, schools, and workplaces. To stay in line with the creative and artistic feel of the show, our staff will have something a bit more fun and whimsical for visitors than you might have seen at previous events we've attended."
The show floor will open early for press and VIP guests the evening of February 12th, with doors open to the public Thursday through Saturday. Tickets and event information are available at http://www.3dprintshow.com.
About Solidoodle
Solidoodle, founded in 2011 by aerospace engineer and 3D printing industry-veteran Sam Cervantes, builds affordable and easy-to-use 3D printers for both professional and consumer use. Built in Brooklyn, New York, more than 10,000 Solidoodle 3D printers have sold to customers around the world since the company debuted its sub-$500 2nd Generation printer in early 2012. For more information about Solidoodle, please visit http://www.solidoodle.com.
About 3D Printshow
3D Printshow brings together the biggest names in 3D printing technology alongside the most creative, exciting and innovative individuals using additive processes today. With its focus on fashion, art, education, design and investment, 3D Printshow is sure to offer something for everyone. For more information about 3D Printshow, please visit http://www.3dprintshow.com.