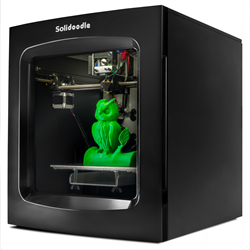 ...we've focused our resources on product innovations for a more seamless printing experience as well as new features...
Brooklyn, New York (PRWEB) June 30, 2014
3D-printer company Solidoodle has taken major steps during the past 12 months to grow its offerings with new product features, platforms, resources, and expanded retail distribution.
Notable milestones in the past year include:
● Began shipments of Solidoodle 4th Generation 3D printer in December 2013
● Beta launched free 3D file-sharing Website Solidoodles.com in February 2014
● Expanded growth into major retailers with distribution partner Wynit in April 2014
● Launched educational program Solidoodle U in late April 2014 with discounted educational packages and growing resources for educators
● Implemented all-metal extruder for increased durability and easier maintenance of key 3D-printing components
● Increased production efficiency with lead times reduced below a week
The Brooklyn-based manufacturer is also making great strides to enhance the 3D printing process for an improved user experience with both hardware innovations and new software applications, as well as through continued development of new features for Solidoodles.com.
"Our primary aim has always been to take 3D printing mainstream to the consumer by making this technology accessible for the average person," says Solidoodle CEO Sam Cervantes. "To increase this accessibility, we've focused our resources on product innovations for a more seamless printing experience as well as new features our customers are requesting. We're also working on new software to streamline the 3D printing process for our customers, and continued development of our Solidoodles platform to provide the community with more ways to share and collaborate on 3D printing."
Milestones for next six months:
●Auto-calibration
●New hardware features
●New 3D printing software
●New material filament capabilities
●New features and capabilities for the Solidoodles design community
About Solidoodle
Solidoodle, founded in 2011 by aerospace engineer and 3D printing industry-veteran Sam Cervantes, builds accessible desktop 3D printers for the consumer market. Regularly in the news, with coverage from media outlets such as Fox Business, CNN, Bloomberg TV, Engadget, and TechCrunch, Solidoodle has made a name for itself as a value-leader in the 3D printer space. Built in Brooklyn, New York, more than 10,000 Solidoodle 3D printers have sold to customers around the world. For more information about Solidoodle, please visit Solidoodle.com.