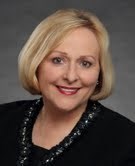 Dr. Solley is committed to providing diverse students with access to higher education and enhancing their path to success. --Dr. Rufus Glasper, Chancellor of the Maricopa Community Colleges
Phoenix, AZ (PRWEB) September 13, 2013
Phoenix College president Dr. Anna Solley has been named a recipient of Valle del Sol's 2013 Profiles of Success Hispanic Leadership Awards.
Solley, a passionate proponent of education for underrepresented student populations, was honored with the Latino Advocacy Champion Award at Valle del Sol's signature fundraising event on September 6, 2013 at the Phoenix Convention Center.
"Dr. Solley is committed to providing diverse students with access to higher education and enhancing their path to success," said Dr. Rufus Glasper, chancellor of the Maricopa County Community College District. "She believes in 'querer es poder' (where there's a will, there's a way) and serves as a role model for Latino students and employees. Her leadership is marked by empowering others, enabling change, and promoting diversity."
Solley's leadership, which includes 37 years with the Maricopa County Community College District, has resulted in accomplishments such as the creation of the Raul H. Castro Institute at Phoenix College, a "do tank" named in honor of former Arizona Governor Raul Castro that focuses on issues impacting Arizona's Latino community, and Phoenix College's receipt of a five-year Title V grant to increase the number of Latino students in math and science courses. Phoenix College serves over 25,000 students each year and is a designated Hispanic-Serving Institution with an Hispanic student population of 37 percent.
"I am very proud to be recognized among the inspirational leaders selected as this year's Profiles of Success honorees," said Solley. "Like many, I chose my career path because I wanted to make a difference. I have a passion for education and for working in an environment that respects and celebrates diversity and fosters student success."
Solley is committed to providing access to higher education to diverse students and enhancing their path to success. She plays an instrumental role in a partnership between Phoenix College, the Maricopa Community Colleges, the City of Phoenix, Phoenix Union High School District, Arizona State University, and several community-based organizations to strengthen educational attainment among Latino students in the metro Phoenix area. Funded by a grant from Lumina Foundation, Degree Phoenix enhances student pathways from high school to college and college to the workforce. The partnership works to engage Latino youth at different points along the educational pipeline, with a goal of increasing the number of students receiving postsecondary credentials by 20 percent during a six-year period.
Born in Nogales, Arizona, to Mexican-American parents, Solley and her siblings were encouraged to obtain an education, work hard, cherish their culture, and give back to the community. A respected trailblazer in her field, Solley has broken traditional stereotypes and has set the bar high for those who follow.
One example of Dr. Solley's determination to not only serve as a role model herself but to also ensure the dissemination of information about other Latina role models is the annual Arizona Latina Trailblazers event. In partnership with Latino Perspectives Magazine, Solley and the Raul H. Castro Institute have been instrumental in capturing and preserving the stories of Arizona's Latina Trailblazers for future generations.
These stories are preserved in the Arizona State Library's Arizona Memory Project and shared with state libraries throughout Arizona. As of 2013, five volumes of the inspirational stories have been preserved and shared.
Solley is dedicated to forming strategic partnerships with organizations such as Arizona Latino Research Enterprise (ALRE). One collaboration resulted in the ALRE and Raul H. Castro Institute's spring 2012 Town Hall, "Arizona's Emerging Latino Vote." The event featured election experts on various panels recounting how Latino voters played a pivotal role in at least four races in Maricopa County last year.
Solley's career with the Maricopa Community Colleges has included service with distinction in the following positions:
President, Phoenix College (celebrating over 93 years of educational excellence); Vice Chancellor for Academic Affairs and Student Development at the Maricopa Community College District; Founding Vice President of Instruction and Student Services at Estrella Mountain Community College; Division Chair for Communications and Fine Arts at South Mountain Community College; Founding faculty member in Reading at South Mountain Community College; Basic Studies Coordinator at Glendale Community College; and Founding Director of the Learning Assistance Center at Glendale Community College.
Solley's community service extends to many local and national organizations, including the Arizona Commission for Postsecondary Education, Arizona Women's Education and Employment Board, Arizona Superintendent John Huppenthal's Hispanic Advisory Group, the National Community College Hispanic Council Board as past president, and St. Joseph's Hospital and Medical Center Community Advisory Board.
Valle del Sol's annual Profiles of Success event launches the celebration of National Hispanic Heritage Month in Arizona. Since 1970, the organization has worked to inspire positive change by investing in health and human services to strengthen families with tools and skills for self-sufficiency and by building the next generation of Latino and diverse leaders.
"Valle del Sol hosts this recognition event to highlight the values of service to community, leadership and advocacy," said Kurt R. Sheppard, Valle del Sol's CEO. "We're honoring individuals and an organization that take Arizona to new heights with their deeds of service for others."
Other leaders who honored with Valle del Sol's 2013 Profiles of Success Hispanic Leadership Awards are Surprise Councilman Roy Villanueva; Pinal Hispanic Council CEO Ralph Varela; Nina Mason Charitable Trust Program Officer Belén González; Marlene Galán Woods, community leader and volunteer; Steve Macías, President & CEO of Pivot Manufacturing; Christina Martínez, Founder of Adelante Public Affairs; Andy Izquierdo, Public Affairs Director for Petsmart; Virginia Eugenia Cárdenas (posthumously); Derrick M. Hall, President & CEO of the Arizona Diamondbacks; Cecilia Rosales, M.D., Director of Phoenix Programs and an Associate Professor in the Community, Environment and Policy Division of the University of Arizona Mel and Enid Zuckerman College of Public Health; and the Arizona Community Foundation.
###
Phoenix College is one of the 10 regionally accredited Maricopa Community Colleges.