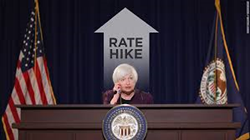 The impact of the interest rate hike on the Prime interest rate used to govern Solo 401(k) loans has had a direct impact on the viability of the Solo 401(k) loan option for many Americans
New York, NY (PRWEB) March 22, 2017
IRA Financial Group, the leading provider of solo 401(k) plans for self-employed and small business owners, has seen a growing number of solo 401(k) plan participants hesitate before taking a 401(k) loan due to the recent interest rate increases by the Federal Reserve. The Prime interest rate has increased from 3.25% in December 2015 to 4.0% as of March 22, 2017. There is an expectation that the Federal Reserve will continue to increase interest rates in 2017. "The impact of the interest rate hike on the Prime interest rate used to govern Solo 401(k) loans has had a direct impact on the viability of the Solo 401(k) loan option for many Americans," Stated Adam Bergman, a partner with the IRA Financial Group.
Internal Revenue Code Section 72(p) allows an individual 401K Plan participant to take a loan from his or her 401K Plan so as long as it is permitted pursuant to the business's 401K Plan documents.
A solo 401k loan is permitted at any time using the accumulated balance of the solo 401k as collateral for the loan. A Solo 401(k) participant can borrow up to either $50,000 or 50% of their account value - whichever is less. This loan has to be repaid over an amortization schedule of five years or less with payment frequency no less than quarterly. The lowest interest rate that can be used is prime as per the Wall Street Journal, which as of March 22, 2017 is 4.00%.
The term prime rate refers to the interest rate that banks charge their preferred customers, or those with the highest credit ratings. It is used to determine borrowing costs on many short-term loan products. The target federal funds rate, which is set by the Federal Reserve Board, serves as the basis for the prime rate. Generally, the prime rate is 300 basis points, or 3 percent, higher than the federal funds rate, although this is not always the case. "The prime rate is important for the self-employed 401(k) plan because it determine the amount of interest you will pay on the loan and if the prime rate was to rise borrowing from the plan would be more costly," Stated Adam Bergman.
With IRA Financial Group's Solo 401K plan loan feature, an entrepreneur who is self-employed individual or small business owner with no employees can borrow up to $50,000 tax-free and penalty free. There are no penalties or taxes due provided loan payments are paid on time. "The Solo 401(k) loan feature has proved to be an attractive.
The IRA Financial Group was founded by a group of top law firm tax and ERISA lawyers who have worked at some of the largest law firms in the United States, such as White & Case LLP, Dewey & LeBoeuf LLP, and Thelen LLP.
IRA Financial Group proudly announces the latest book titled "The Checkbook IRA" written by tax partner Adam Bergman, which is now available on Amazon. This is the second book in a four-part series on self-directed retirement plans. The first book "Going Solo" is also available on Amazon.
IRA Financial Group is the market's leading provider of self-directed IRA LLC and Solo 401(k) plans. IRA Financial Group has helped thousands of clients take back control over their retirement funds while gaining the ability to invest in almost any type of investment, including real estate without custodian consent.
To learn more about the IRA Financial Group please visit our website at http://www.irafinancialgroup.com or call 800-472-0646. To learn more about establishing a self-directed IRA account with the IRA Financial Trust Company please visit http://www.irafinancialtrust.com or call 800-472-1043.