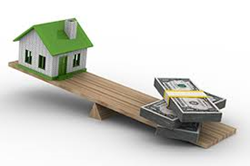 The great thing about using a Solo 401(k) Plan to buy real estate is that you can use leverage to increase the potential gains from the real estate investment and not pay tax, which is not the case with an IRA
New York, NY (PRWEB) April 20, 2015
IRA Financial Group, the leading provider of self-directed Solo 401k plans has seen a surge in real estate investors using the self-directed solo 401(k) plan to buy real estate with leverage and use the unrelated business taxable income tax ("UBTI"). In general, one may obtain financing through a loan or mortgage to finance a real estate using a Solo 401(k) so long as the loan is nonrecourse. A nonrecourse loan is not a traditional mortgage as due to the IRS prohibited transaction rules, the 401(k) plan participant cannot personally guarantee the loan, "With IRA Financial Group's self-directed Solo 401(k) Plan a plan participant can use nonrecourse financing to acquire real estate and not pay and tax or penalty, " stated Adam Bergman, a tax partner with the IRA Financial Group. "The great thing about using a Solo 401(k) Plan to buy real estate is that you can use leverage to increase the potential gains from the real estate investment and not pay tax, which is not the case with an IRA," stated Mr. Bergman.
Under Internal Revenue Code Section 4975, a "prohibited transaction" is a transaction that, directly or indirectly involves the loan of money or other extension of credit between a plan and a disqualified person. Normally, when an individual purchases real estate with a mortgage, the traditional loan provides for recourse against the borrower (i.e., personal liability for the mortgage). However, if the 401(k) Plan purchases real estate and secures a mortgage for the purchase, the loan must be non-recourse; otherwise there will be a prohibited transaction. A non-recourse loan only uses the property for collateral. In the event of default, the lender can collect only the property and cannot go after the 401(k) Plan itself.
The advantages of using a Solo 401(k) Plan to purchase real estate is that a nonrecourse loan can be used which could help leverage the property without triggering any tax or penalty. In contrast if using a self directed IRA LLC to purchase real estate, a tax would be imposed on the debt-financed portion of the property being purchased. Pursuant to Internal Revenue Code Section 514(c)(9), the Unrelated Business Income Tax (UBTI) would not apply when using nonrecourse leverage as part of a real estate transaction (unrelated debt-financed income – UDFI). "Using nonrecourse financing with a solo 401(k) plan offers real estate investors the ability to super charge their real estate returns without having to pay tax," stated Mr. Bergman.
The IRA Financial Group was founded by a group of top law firm tax and ERISA lawyers who have worked at some of the largest law firms in the United States, such as White & Case LLP, Dewey & LeBoeuf LLP, and Thelen LLP.
IRA Financial Group is the market's leading provider of self-directed IRA and solo 401(k) plans. IRA Financial Group has helped thousands of clients take back control over their retirement funds while gaining the ability to invest in almost any type of investment, including real estate without custodian consent.
To learn more about the IRA Financial Group please visit our website at http://www.irafinancialgroup.com or call 800-472-0646.