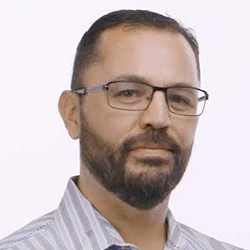 Solomon Cates is an invaluable addition to all of TerraScale's projects. We are very fortunate to work with him and benefit from his decades of experience.
SANTA MONICA, Calif. (PRWEB) January 20, 2023
TerraScale Inc., a five-time award-winning green development, infrastructure and finance firm formed with the goal of accelerating the transition to a more sustainable planet today named Solomon Cates as Senior Advisor on its Advisory Board. Cates will serve on the Advisory Board under the leadership of LT. General Honoré.
Cates has over two decades of senior leadership in the cybersecurity and technology industry. He is a technology leader with deep experience of the information security landscape. Cates is currently the Principal Technologist of cybersecurity, and cloud for Thales Group, a leading multinational defense and cybersecurity company.
Cates is focused on improving understanding of today's and tomorrow's challenges and developing solutions that address those problems. He brings a comprehensive set of experience and viewpoints – having been CISO, CTO, CIO, a vendor, administrator, security analyst, developer and architect, among other roles.
"Solomon Cates is an invaluable addition to all of TerraScale's projects. We are very fortunate to work with him and benefit from his decades of experience," said Danny Hayes, TerraScale co-founder and CEO. "Cates brings a wealth of expertise in the security space, which will undoubtedly help our company lead the industry in green infrastructure development."
TerraScale is implementing national and regional-level infrastructure and digital transformation plans and projects aimed at transforming the digital and physical security landscape through edge computing, fiber, cybersecurity, sovereign cloud, satellites, green power and more.
At TerraScale, Cate's primary responsibilities will include strategic technology advisory and support of TerraScale's national and regional level infrastructure plans. He will provide guidance, strategic alliances and partnerships while providing insight into TerraScale's global initiatives.
"I'm excited to join the TerraScale advisory board and help them create a more sustainable and secure world," said Cates. "TerraScale has already established itself as an industry leader in green infrastructure and I look forward to working with them to drive further innovation in this space by helping secure the world's most important digital infrastructure."
About TerraScale
TerraScale is a green technology and infrastructure development company reinventing the future of global sustainable development models. TerraScale places green energy, digital infrastructure and cybersecurity at the center of its infrastructure projects and solutions. Bringing together the best-in-class partners and service providers across technology, green engineering, cybersecurity, real estate, energy, construction firms and more, TerraScale modernizes businesses and communities around the world- creating solutions and infrastructure that are future-proofed. TerraScale's Project Energos is the winner of five prestigious design and architecture awards.
For more information, visit https://terrascale.org.