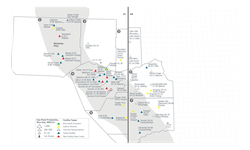 Calgary, Alberta (PRWEB) August 24, 2015
Solomon Natural Gas Services (Solomon) and Gas Processing Management Inc. (GPMi) announced today the completion of their 2015 Montney Growth Resource & Infrastructure Assessment (Montney Growth Assessment).
The report examines key growth areas of the Montney Play from northwest of Fort St. John in British Columbia to the Wapiti River in Alberta, providing an extended analysis of the initial Montney Growth Assessment released in January 2012. The assessment area, depicted in Figure 1, is made up of seven sub-regions that are the basis for the detailed analysis.
The owners and operators of the production plants (gas gathering and processing) and sales systems (gas and NGL) in these sub-regions are currently focusing on specific projects. With the significant increase in forecasted production, the required system changes must be understood in the context of the total changes occurring in the area as stand-alone processing plant projects have the potential to overbuild capacity that could adversely impact capital investment, operating performance, and overall efficiency. This report of the Montney Growth area highlights the issues that may develop as a result of this "step change" in natural gas and NGL production in the area. The report:

Examines Montney growth, legacy gas, and NGL (separate forecasts for ethane, propane, butane, and condensate) production to 2035 by sub-region.
Forecasts natural gas (raw gas and sales gas) and NGL (theoretical, recovered, and unrecovered).
Examines the larger gas processing facilities in the area that have capacity to handle the forecasted production growth. Smaller facilities also play a role or impact development and were considered in aggregate.
Focuses on new gas gathering and processing facilities where required, and the use of existing infrastructure where practical.
Assesses the required gathering, processing, and transportation infrastructure to develop a logical case for infrastructure development, operation, and management. The assessment lays out a blueprint to optimize the existing gas gathering and processing infrastructure, and to develop new area infrastructure to effectively process its growth. Where infrastructure is forecast not to be directly impacted by resource development, the assessment analyzes and recommends repositioning scenarios that will increase processing effectiveness for existing conventional production.
"The 2015 Montney Growth Assessment is a unique product that examines an important development area in the context of the overall growth in gas demand and production across Western Canada," said Bill Gwozd, P.Eng, Senior Vice President of Gas Services at Solomon. "As such it should be a foundational analysis for a broad cross-section of resource developers, facility operators, and investors."
Two earlier reports produced by Solomon Natural Gas Services and GPMi—"Gas West for LNG Growth" issued in December 2014 and "NGL Growth – Impact of LNG Development" issued in February 2015—examined the supply and demand for Western Canadian natural gas and NGLs to 2035. These reports focused on the impact of forecasted production growth on the pipelines and supporting infrastructure used to process and transport Western Canadian sales gas and recovered NGL. The 2015 Montney Growth Assessment report incorporates and expands on the production forecasts from these earlier reports, applying them specifically to the Montney Growth area. The next update of the Montney Growth Assessment will be published summer 2018.
About Solomon Associates
HSB Solomon Associates LLC (Solomon) is the leading performance improvement company for the global energy industry. Solomon's benchmarking and advisory solutions help customers across the energy value chain to achieve operational excellence by increasing efficiency, reliability, and profitability. Solomon also provides forecasting and advice on the North American gas market. Solomon's proprietary analytics uniquely transform data into insight for making better business decisions. Based in Dallas, TX USA, Solomon is part of the Hartford Steam Boiler Inspection and Insurance Company (HSB). Learn more at SolomonOnline.com.
About Gas Processing Management
Gas Processing Management Inc. (GPMi) is a Calgary, Alberta based consultancy that focuses on the business of energy infrastructure from the wellhead through the gas gathering and processing, sales gas, NGL, and LNG Systems. For further information about GPMi, consult their website at GasProcessing.com.