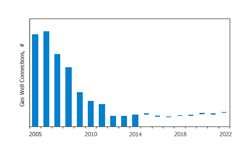 CALGARY, ALBERTA (PRWEB) May 14, 2015
Solomon Natural Gas Services (Solomon), formerly Ziff Energy, today announced the release of its "Western Canada Natural Gas Production Outlook to 2022" report. The report forecasts gas production, natural gas well connections, and new gas well productivity in seven regional Western Canada gas strategies and four unconventional plays to the year 2022.
"Exploitation and development of shale and tight gas will continue to be the main drivers of gas production growth," said William Winnick, P. Eng, Director, Supply Forecasting for Solomon. "By 2022, the Montney and Duvernay plays are expected to account for almost half of Western Canada's gas production."
Figure 1 shows the average new gas well connections in Western Canada to 2022. A moderate level of annual connections will be required over the forecast period due to higher initial new gas well productivity, a result of horizontal drilling and technology advances with multi-stage hydraulic fracture completions.
Other recent and widely read Solomon reports available for purchase include:

Impact of Low Oil Prices
Gas for Power Generation to 2022
North American Natural Gas Liquids Production Outlook to 2022
North American LNG Exports to 2022
North American Oil and Associated Gas
Gas Price Differentials Forecast to 2022
Henry Hub Gas Price Outlook to 2022
Gas Production Outlook by Basin to 2022
Growth of North America Natural Gas Demand to 2022
Pipeline Capital Costs in North America
US and Canadian Gas Reserve Replacement for 2013
Pipeline Repurposing
Shale Gas Production Outlook by Play to 2022
North American Gas Ultimate Potential Resource
Gas Demand for the Oil Sands to 2022
Canadian Gas Exports to 2020
North American Natural Gas Storage
Mexico Natural Gas Outlook to 2020
About Solomon Associates
HSB Solomon Associates LLC (Solomon) is the leading performance improvement company for the global energy industry. Solomon's benchmarking and consulting solutions help customers across the energy value chain achieve operational excellence by increasing efficiency, reliability, and profitability. Solomon also provides forecasting and advice on the North American gas market. Solomon's proprietary analytics uniquely transform data into insight for making better business decisions. Based in Dallas, TX USA, Solomon is part of The Hartford Steam Boiler Inspection and Insurance Company (HSB). Learn more at SolomonOnline.com.