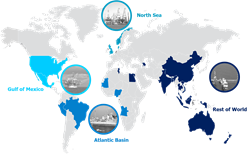 Calgary, Alberta (PRWEB) April 07, 2015
Ziff Energy, a division of HSB Solomon Associates LLC (Solomon), today announced the start of a new upstream benchmarking study. The Worldwide Offshore Production Operations Performance Analysis Study (Offshore Study) is a multi-client initiative that assesses offshore asset performance for similar types of offshore operations (e.g., floating platforms, fixed structures, among others) within a given region and globally, as illustrated in Figure 1. The study analyzes performance for 2013 and 2014. More than 20 exploration and production (E&P) offshore entities operating in excess of 100 individual offshore assets are participating in the study.
The goal of the study is to assist operators in optimization and rationalization, improving production efficiency, and combating the impact of reduced oil prices on operating margins. The study identifies areas of strength and opportunities for improvement based on the peer assessment.
For the last 20 years, Ziff Energy has conducted numerous offshore benchmarking studies for a large number of producing operators, assessing more than 1,000 offshore assets in 20 countries around the world. Solomon has pioneered patented normalization methodologies, which enhance peer-to-peer asset performance comparisons by leveling the playing field. Together, the teams have adapted these methodologies for the upstream segment to augment Ziff Energy's traditional in-basin peer group comparisons.
Offshore assets are compared within three large asset categories in several regions of the world. The two main areas of focus are operating cost and production maximization (uptime reliability). Ziff Energy has established a collection of metrics for both aspects of operations excellence critical to offshore success. Optimizing operational expenditure (OpEx) is crucial to maintaining margin and cash flow as well as sustaining competitiveness during periods of low oil and gas prices.
This new Offshore Study analyzes significant cost drivers for the various production systems, provides a valuable competitive perspective, and offers consolidated company-level performance to track regional and global offshore OpEx and production efficiency.
Participation will enable clients to drive their offshore operations performance to higher levels of excellence and establish their companies' competitive position among offshore operators.
For further information, please contact Paul Ziff, Executive Vice President, by phone at 1.403.234.4276 or by email at Paul(dot)Ziff(at)ZiffEnergy(dot)com. Richard M. Tucker, Vice President of Marketing and Client Relations for Ziff Energy, is also available by phone at 1.713.985.5183 and by email at Richard(dot)Tucker(at)ZiffEnergy(dot)com.
About Solomon Associates
HSB Solomon Associates LLC (Solomon) is the leading performance improvement company for the global energy industry. Solomon's benchmarking and consulting solutions help customers across the energy value chain achieve operational excellence by increasing efficiency, reliability, and profitability. Solomon also provides forecasting and advice on the North American gas market. Solomon's proprietary analytics uniquely transform data into insight for making better business decisions. Based in Dallas, TX USA, Solomon is part of the Hartford Steam Boiler Inspection and Insurance Company (HSB). Learn more at SolomonOnline.com.